Enter our competition and you could win £1,000!
Take a stunning photograph, or sketch, paint or design a postcard scene along
The Trafalgar Way from Falmouth to London
Every entry supports our naval heritage and the future of The Trafalgar Way
How to enter

1. Register on our competition site
2. Create your image or images
3. Submit your entries by 16th April 2021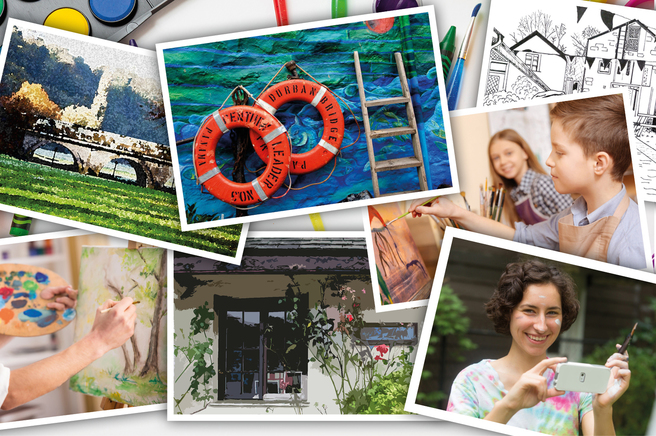 Important competition information
Who can enter?
The Postcards from the Trafalgar Way Competition (2020) is open to participants who are residents of the United Kingdom.
Entrants should be in one of the following age categories on 1st September 2020:
•Age 7-11
•Age 12-16
•Age 17 and above

What is required?
Entrants are invited to pick a scene or feature on, near, or depicting The Trafalgar Way, and to portray it as a photograph or a two dimensional artwork, which may include digital art. Children aged 7 to 11 have a single category, 'Art', which may include photographic or digital art. Entrants can find out where The Trafalgar Way route runs on The Trafalgar Way website.
Further detailed guidance is provided on the competition registration site and The Trafalgar Way website.

How to enter
Entrants must register on the Competition website in order to submit an entry.
They may submit as many photographs or artworks as they like.
Adults are required to pay a fee of £5 per entry (see below).
All entries are to uploaded to the Competition website as a pdf, .jpg or .png.
In ART categories, original artwork may measure anything from A6 to A1 in size. Maximum dimensions are 841mm by 594mm. For physical pieces, entrants will be required to take a good-quality photograph of their artwork and submit that. Entries are not to be physically posted, unless we request it.
Entrants should keep the original work safe for the purposes of exhibiting and copying, in case it is a winning entry.
Amendments to entries and entry details may be made on the Competition submission website up to the Competition deadline of midnight on 16th April 2021.
Entry Fees
To encourage a good standard of entry, and to help raise money to support The Trafalgar Way for future generations, the following entry fees apply:
Age 7 to 11 - free to enter
Age 12 to 16 - free to enter
Age 17 to adult - £5 per entry
Multiple entries are encouraged. From time to time we may offer discounts for multiple entries as an incentive to enter more than once.
Entry fees are non-refundable.
All proceeds from entry fees go directly (via Paypal) in full to the 1805 Club, a charity registered in England and Wales (no 171871), for the ongoing management and promotion of The Trafalgar Way.
School entries
Teachers and school staff may submit entries on behalf of pupils using the Schools 7 to 11 Art category. There is no limit on number of entries per staff member and entry in this category is free of charge.

Deadline
The deadline for entries is midnight on 16th April 2021.

Judging

Experienced artists and photographers will assist in selecting the shortlists and choosing the final winners. All entries will be judged anonymously. We regret feedback on entries will not be given.

Notification of Winners
The winning entrants will be notified via email, using the contact information provided on the entry form, by 25th May 2021 at the latest.
The winners' names will be displayed on The Trafalgar Way website by 8th June 2021 at the latest.


Copyright and commercial use
The creator will retain the copyright in their image. We understand that rights are a sensitive issue and would like to assert that while we would love to use winning images to create actual postcards for sale, that is not the point of the Competition. However, we do need to be able to showcase the winning entries and create the prizes listed, therefore prizewinners of the competition will be required to grant us a licence allowing us to exhibit and to reproduce their winning image(s) for these purposes. This includes use of the image(s) digitally on websites, in social media and for press releases. When you enter the competition you will be required to agree to this licence.

We will make full efforts in all cases to provide full attribution to the entrant as the creator of the published photograph or artwork, whenever and wherever it is used.

Later on, we may ask to use the very best images to create merchandise for sale on our website or at retail outlets along The Trafalgar Way route. In this case, you may be asked to grant a licence to The Trafalgar Way and/or The 1805 Club to include commercial use of entry images under separate terms which would be agreed after the conclusion of the Competition, but you would be under no obligation to do so.
Categories and Prizes
The following prizes will be awarded:
Art (ages 7 to 11)
1st Prize - £250 and a Treasure Trails voucher worth £9.99
2nd and 3rd prizes will also be awarded.
Schools Prize (age 7 to 11)
£250 and a Treasure Trails voucher worth £9.99 for the winning child
A Wooden World day workshop for the winning class.
A framed copy of the winning entry, a Trafalgar Way certificate and a framed storymap poster depicting The Trafalgar Way Story in colour
A complete Key Stage 2 Geography maps pack from Francis Frith (normally £99).
A runner-up school prize will be awarded.
Art (age 12 to 16)
Photography (age 12 to 16)
1st Prize (each category) - £500 and a Treasure Trails voucher worth £9.99
2nd and 3rd prizes will also be awarded.
Art (age 17 +)
Photography (age 17 +)
1st Prize (each category) - £1000, and a Treasure Trails voucher worth £9.99
2nd and 3rd prizes will also be awarded.
The Peter Warwick Memorial Trophy
This prize of a trophy and £1000 will be awarded to a single entrant in any age category who is a current or past serving member of the Royal Navy or Royal Marines, including the Fleet Air Arm and Royal Fleet Auxiliary, Royal Naval or Royal Marine Reserve, a member of a Royal Naval Association, or a Sea Cadet, Marine Cadet or Sea Scout.
The John Richards Lapenotiere Trophy
This prize of a trophy and £500 will be awarded to a single entrant who is resident in one of the 8 counties of The Trafalgar Way at the time of entry, and who, in the judges' opinion, most aptly captures the essence of The Trafalgar Way in a postcard image. Residents of Cornwall, Devon, Dorset, Wiltshire, Hampshire, Surrey, Berkshire and Greater London are eligible for this extra award.
Regional prizes
In addition to the above there will be a prize for the sixteen best 'Postcards of the Trafalgar Way' submitted
a) by a resident of each of the 8 counties of The Trafalgar Way, or
b) clearly depicting a location along the Trafalgar Way, one for each county.
There will furthermore be recognition for HIGHLY COMMENDED entries as identified by the judges.
All main 1st prize winners in individual categories will be invited to London for an awards ceremony.
All winning and highly commended entries will be considered for display at future 1805 Club events. They will also be considered for a proposed touring exhibition of Postcards from The Trafalgar Way to take place from Cornwall to London during 2021/22.
Privacy notice
We will use your personal information for the purposes of administering this competition, informing you if you have won and if so, issuing your prize(s). The names of the winners will be posted on The Trafalgar Way website and will be included in press/marketing material, including social media. Your data will not be passed to any other third parties. Your personal information will be properly safeguarded and processed in accordance with current UK data protection legislation. If you have consented to receive ongoing news and updates from The Trafalgar Way at the time of entry submission your contact details will be added to our marketing database. You may update your details and unsubscribe from this database at any time.
Please note: The above Important Competition Information is a summarised version of our full
Competition Rules of Entry
, which are available to read on our website and linked from the competition registration page. Acceptance of the full Ts and Cs is a condition of entering the competition. In the event of any conflict between the information on this page and the full Ts and Cs, you should take the current version of the full Terms and Conditions as correct.
E&OE.
Competition Now Closed!
Unfortunately the Autumn 2018 Story Writing Competition is now closed.
We are reviewing the applications and will announce a winner soon.