About The Trafalgar Way
What is The Trafalgar Way?
The Trafalgar Way, which runs from Falmouth in Cornwall to the Admiralty in central London, was created to commemorate a remarkable, but little known, true story.
This tale of great heroism takes place in 1805 a few days after the Battle of Trafalgar, Britain's greatest historic naval victory. It recounts the extraordinary journey travelled over sea and land by a Royal Naval officer, Lieutenant John Richards Lapenotiere, to bring home the official Dispatch (report) from the Battle.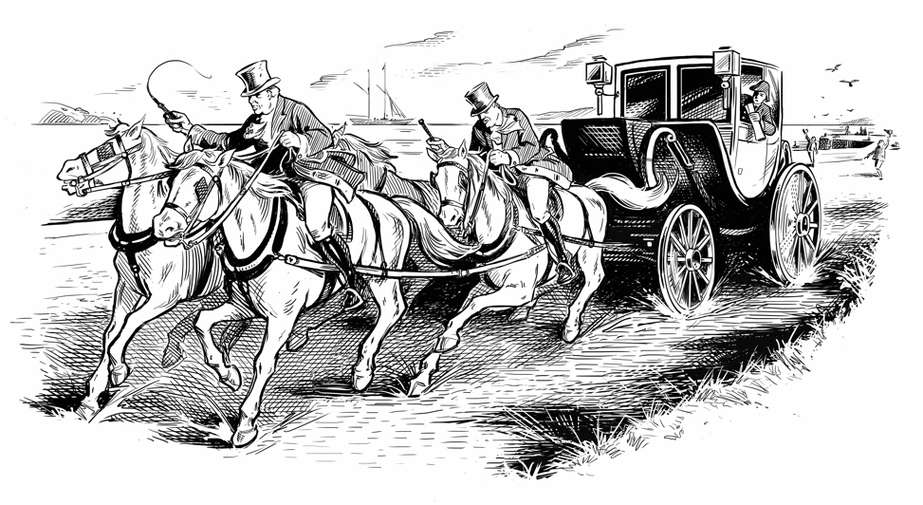 A record-breaking race to London!

From Falmouth to London, Lt Lapenotiere changes horses at least 21 times in his extraordinary journey which takes just over 37 hours.
The story's starting point is at sea just off the coast of southern Spain. There, Vice Admiral Cuthbert Collingwood, Admiral Lord Nelson's second in command, orders Lapenotiere to deliver his Dispatch to the Admiralty without delay. In the Dispatch, Collingwood gives news of the British victory and a report on the enemy ships taken, but also laments Lord Nelson's death at the very height of the Battle.
Sailing in his tiny, fast schooner, HMS Pickle, Lapenotiere struggles back to British shores across often treacherous, stormy waters. He docks at Falmouth and embarks on a virtually non-stop 271 mile, 37 to 38 hour journey by carriage and horses to the Admiralty.
Today, a series of 39 bronze plaques located along The Trafalgar Way remembers Lapenotiere's heroic, historic journey.
Where is it?
A coaching, rather than a walking route, The Trafalgar Way's path traverses some of Britain's most beautiful countryside, following lanes and highways through picturesque villages, towns and cities. It begins in Falmouth and ends at the Admiralty in Whitehall, central London. Along its 271 miles, it passes through eight counties (Cornwall, Devon, Dorset, Wiltshire, Hampshire, Surrey, Berkshire - just! - and Greater London). Historic locations along the way include Truro, Bodmin, Launceston, Okehampton, Exeter, Honiton, Axminster, Bridport, Dorchester, Salisbury, Andover, Basingstoke, Camberley, Bagshot, Egham, Staines, Hounslow and Kensington.
We know this is the route taken because there's documented evidence of Lapenotiere's journey by post-chaise (carriage and horses). Further contemporary evidence, such as the earliest Ordnance Survey maps and carriage-drivers' road books, offer more details of this route which was regularly followed by early 19th century post-chaise carriage services.
Who is behind it?
The idea to create The Trafalgar Way originates from a group of historians and retired naval personnel, some of whom are still, today, members of The 1805 Club. Before the Battle of Trafalgar's bicentenary in 2005, the group sets up the "New Trafalgar Dispatch" to co-ordinate special events for the route's inauguration that year. Local committees in places along the route also play an active role in organising these events.
Central to the inauguration is the journey of 'Lt Lapenotiere' played by actor Alex Price who travels the length of the route from Falmouth to London making appearances in a specially-built post-chaise pulled by two horses. During the inauguration, the bronze plaques are unveiled, while local dignitaries, including Lord Lieutenants and Mayors, are presented with new versions of the Dispatch.
Written into the New Trafalgar Dispatch is a message that emphasises the heroism and humanity shown by both sides fighting in the Battle.
After 2005, the New Trafalgar Dispatch disbands, but The Trafalgar Way remains under The 1805 Club's custodianship, its members keeping a watching brief over the historic trail of bronze plaques.
In 2017, The 1805 Club successfully applies for a grant from HM Treasury's LIBOR fund, set up especially for military charities. This grant allows for significant reinvestment in The Trafalgar Way to ensure the legacy continues for the present and future.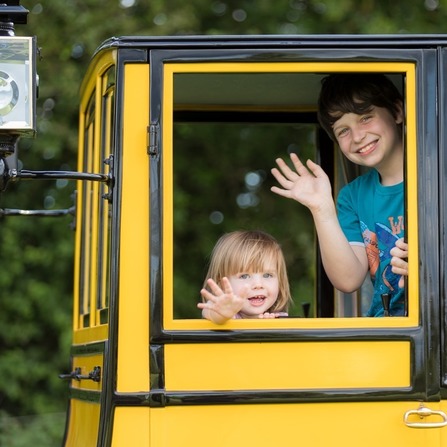 Along for the ride

Children can experience history first hand
How can I get involved?
Everyone can play a part in The Trafalgar Way's living legacy. There are countless ways to participate, for example, you can write a blog about your adventures along the route, stage a fund-raising activity, organise an event, or
become listed as a partner.
We can't wait to hear about your ideas or any stories you would like to share with us. If you like, we'll help you promote them.
Amongst the activities on offer are
Georgian Navy-themed workshops
for schools, children's
competitions
and treasure hunts and trails for all ages, with a special focus on the towns and villages along the route.
Above all, we want to highlight all the wonderful things to do in these places and the many stories to be told about their unique histories. This will help you discover, enjoy and explore more of Britain's past and present treasures to be found along the route.
Please have a look around this website to learn more about the many ways you can be involved with The Trafalgar Way. You can drop us a line any time if you have something to tell us or you cannot find something specific that you would like to know.
If you like what you see here, you can sign up for our regular dispatches from The Trafalgar Way. We promise not to email too often, but when we do, it will be something to fascinate and inspire you. Use the form below or use the form on our contact page to give us your details.
Can you help us expand our knowledge?
We'd love to hear your story!