The Battle of Trafalgar
A short piece of context, prepared by Peter Warwick, late Chairman of The 1805 Club.
On Monday, 21st October 1805 off Cape Trafalgar, Vice Admiral Lord Nelson, on board his flagship HMS Victory, together the other 26 British ships of the line attacks the 33 ships of the combined French and Spanish fleets, commanded by Vice Admiral Comte de Villeneuve. Firing starts around midday and by tea-time, the most famous sea battle in British history is over. Napoleon's fleet is virtually annihilated, 17 of its ships captured. There are in total around 50,000 officers and crew engaged in the battle. British losses total 450 dead and 1,250 wounded, while the allies suffer considerably more casualties - 4,400 dead and 3,300 wounded.
There are a great many resources where you can find out the detailed events of the battle. Start by reading Kate Jamieson's account for our blog.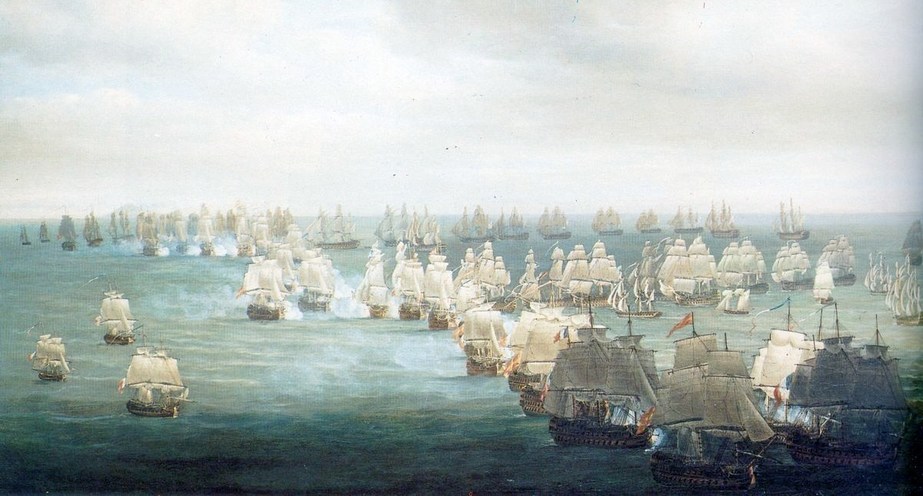 Nicholas Pocock's "Trafalgar Battle - 21st of October 1805 - Situation at 13h"
Nelson's famous action was to bear down on the line of ships of the Combined Fleet in two columns, one commanded by himself in Victory, the other led by Vice Admiral Collingwood in Royal Sovereign. HMS Pickle is probably the small two-masted schooner seen centre right, observing the action.
After the battle
Many more drown during the ensuing storm. Not a single ship in the British fleet is lost, but Nelson, its hero and most celebrated naval commander is mortally wounded and later dies in the cockpit of his flagship knowing the battle is won.
The Battle of Trafalgar is the last major naval engagement in the Napoleonic Wars. While its consequences are not immediately apparent, the legacy is profound. Trafalgar undermines any future French invasion plans and paves the way for the downfall of Napoleon, fulfilling Prime Minister William Pitt's claim, on hearing the news, that 'England has saved herself by her exertions and will I trust, save Europe by her example.'
Trafalgar also establishes Britain as the dominant global maritime power up until the Second World War, ushering in a long period of economic prosperity and political authority that blossoms into the British Empire.
Trafalgar's enormous significance, coupled with Nelson's death at the height of his greatest triumph, helps to explain the enduring interest in the Battle. Even after more than 200 years, rarely has five hours of history been so closely studied and written about.