Scenes and stages along The Trafalgar Way
Scenes in pictures
We sent out award-winning landscape photographer Ian Gregory to spot some sample landscapes and architectural detail along The Trafalgar Way. In addition, we're always spotting great photos and images to add to our galleries, which we only ever use with express permission of the image creator. If you have an image to contribute to help illustrate the route today or as it was in the past, please get in touch!
Scenes in words
Adam Preston has been investigating the route, stage by stage, to pick out some of the fascinating history, landmarks and characteristics which mark this amazing heritage route. You can choose a stage from the list below to read Adam's words or see our image gallery, section by section.
We hope these, together with other sample images by ourselves and submitted by other members of the public will encourage you to explore, research and appreciate the wonderful setting for The Trafalgar Way, from its maritime beginning in Falmouth, Cornwall, to its urban conclusion in central London, via eight counties and some of England's most beautiful southern countryside.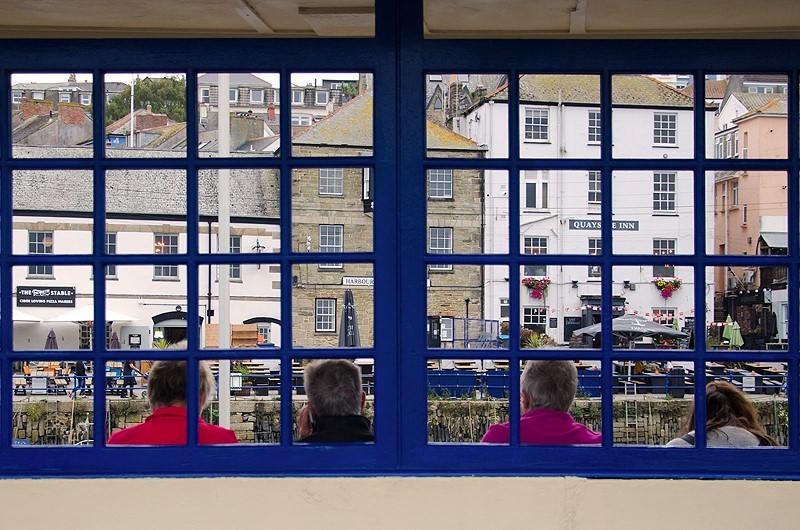 Falmouth's Custom House Quay
Custom House Quay, viewed from behind the ferry shelter. Sometimes the most familiar view can be made more interesting from a new perspective. Photograph © Ian Gregory
Overview
The Trafalgar Way is the route taken by Lieutenant Lapenotiere in 1805, when he was given the important task of delivering the news of The Battle of Trafalgar safely and urgently to the Admiralty in London. The land part of the route, which he travelled by
post-chaise express carriage,
wends its way from Falmouth to Whitehall in London, passing through historic towns and villages, stunning landscapes and uncountable fascinating features in the course of its 271 miles.
To help you re-imagine his journey, we have written some brief descriptions of each section of the route. These are designed to inspire you and start you looking—but they are far from comprehensive and we encourage you to open your eyes, explore and discover for yourselves!
• • •
Explore and discover!
To help you practise your exploration and 'seeing' skills, why not visit some of the quirky local museums along the route, discover a neighbourhood using a Treasure Trail, or follow a waymarked walk or town trail? We've included some locations for these on our
interactive map
. Just select the appropriate options (eg 'museums', 'scenes' or 'Treasure Trails') from our 'points of interest' picker below the map.
• • •
We hope these descriptions will inspire you to visit places along the route or to research it further on the internet or in books. It's not just about our story; we've pointed out some of the rich history that has touched different parts of the route to help bring it to life and to explain some of the visual features. For example,
Many battles have been fought along the route and whole towns were destroyed by fire.
One English king abdicated close to the route while another hid from his pursuers and a third lay dead the night before he was buried, somewhere along the way.
History can help explain why places look the way they do and leaves its mark most obviously in architecture; but remember that The Trafalgar Way is a living, breathing entity and the communities and events which you will find along the route today are just as much a part of its history as those of yesteryear.
Stage by stage route descriptions