Okehampton
At Okehampton Lieutenant Lapenotiere changed horses at The White Hart where you can see The Trafalgar Way plaque. The town was founded by the Saxons and later thrived due to the Medieval wool trade, so it possesses a rich history. If you keep your eyes open you will encounter many beautiful, interesting and potentially prize winning sights! The town boasts the 15th Century chapel of St James and Okehampton Castle, a dramatic ruin, which was established by the Norman Sheriff of Devon. Perhaps a visit to
The Museum of Dartmoor Life
will inspire you - or you might take a picture in the museum itself.
Return to overview
A30 Footbridge at Okehampton
© Rupert Stockwin. Image courtesy of Rupert Stockwin
Sticklepath, South Zeal, South Tawton, Whiddon Down, Castle Drogo
Heading east out of Okehampton you come across Sticklepath where Lapenotiere's journey is commemorated with a plaque on the white building opposite the Devonshire Inn, together with a rather well-known mural depicting Nelson's famous flag signal, "England Expects...". The Finch Foundry is also here, a working mill and smithy which will help you step into the past for a taste of traditional Victorian working life.

The pretty Dartmoor village of South Zeal features The Okenham Arms, an inn and hotel in the centre of the village, which was once the manor hall which was built around a former monastery. The monastery itself was formed around a Neolithic standing stone called the South Zeal Menhir.

Nearby South Tawton enjoys the dramatic backdrop of Cawsand Beacon, which consists of a round cairn, a ring cairn, a stone building and five post-medieval shelters on the summit of Cawsand Hill.

The hamlet of Whiddon Down boasts a nearby ridge of high farmland some 800 feet above sea level with commanding views of the surrounding countryside. If you are attending the annual Chagstock music festival in July a great picture from this event would qualify as being an image of The Trafalgar Way. The Post Inn in Whiddon Down is a 16th century inn which enjoys good countryside views from its garden.

To the south is Castle Drogo, which has the distinction of being the last castle to be built in England (completed in 1930). Typical of the kind of beautiful features that dot the landscape of Dartmoor is the 17th Century stone arched Fingle Bridge.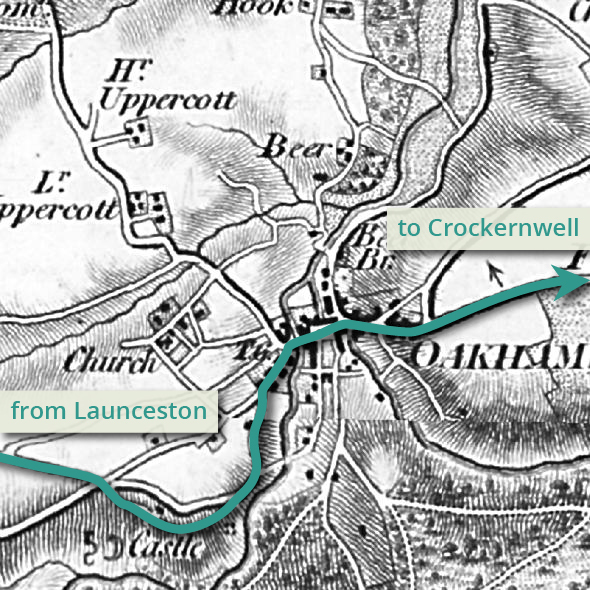 The route through Okehampton
Map image © Cassini Publishing Ltd.
The route through "Oakhampton"
In 1760 records show Okehampton spelled as it is today, but there is a period in the early nineteenth century when it was labelled as 'Oakhampton' on maps and in government reports.
At that time, Crockernwell on the road to Exeter was still officially known by its full name of 'Crockerton Well', although Lapenotiere's expenses clearly say 'Crockernwell'.
The post-chaise bearing Lapenotiere would have approached Okehampton from the south west along the road where Betty Cottles Inn is now located. The New Road (shown here above the castle) may not have been built at that time - it's possible the coach still went down the straighter Old Road into town, with its steep arrival at the bridge across the Okement River before the White Hart Inn, where Lapenotiere would have stopped at around midnight.
Have fun exploring!