Aims & Values
What does The Trafalgar Way stand for, and why are we pursuing this initiative?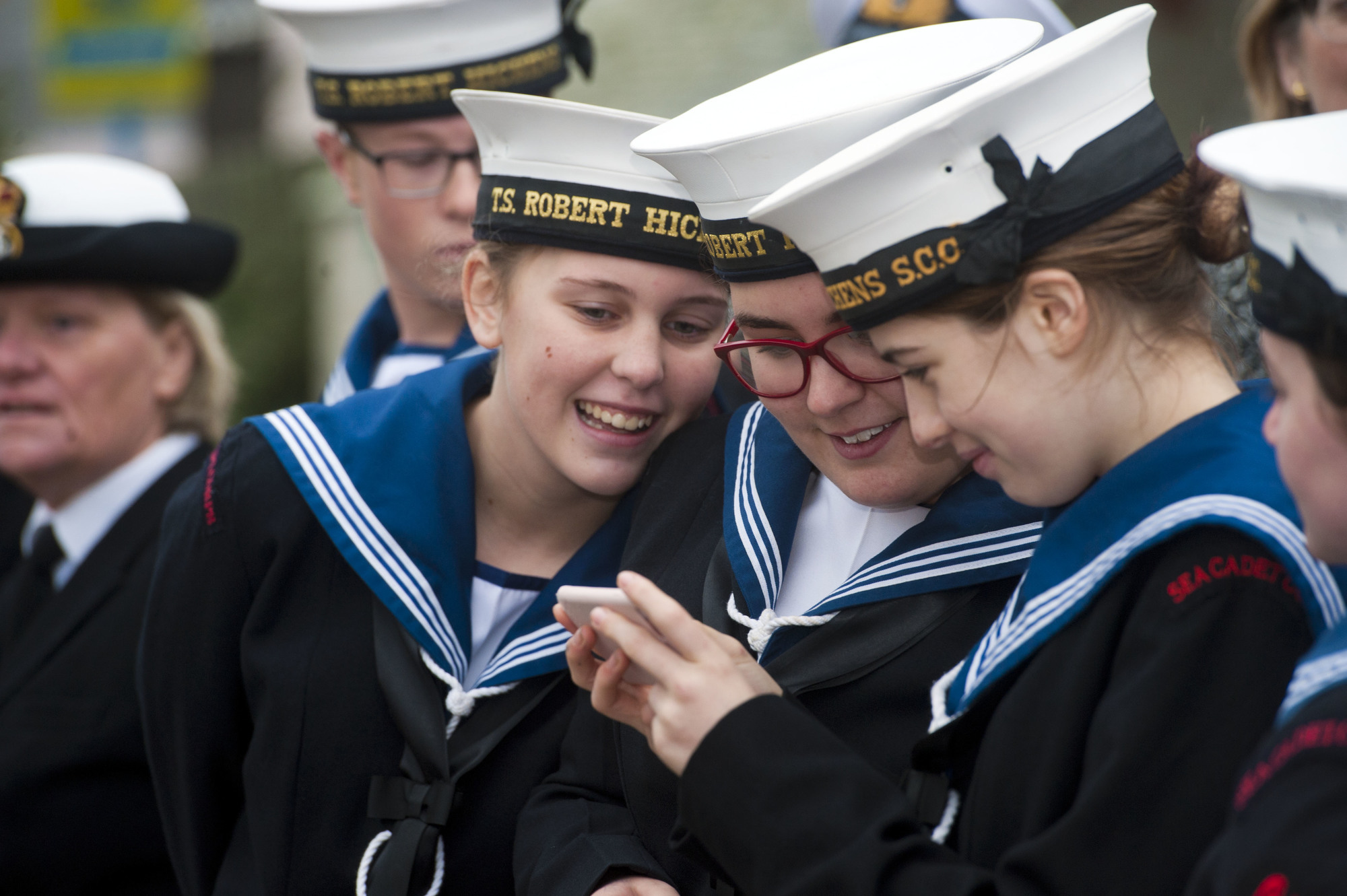 Communities, fun, youth involvement and the creation of lasting memories.

The Trafalgar Way has a mission to create lasting memories for young people. The Sea Cadets are one of our key partnerships. Pictured here are members of the Falmouth and Penryn unit who helped officiate at the unveiling of the 39th plaque of The Trafalgar Way at Perranwell in Cornwall, November 2018.
Purposes and Objectives
1. A National Memorial Route
The group of historians and naval history enthusiasts who conceived the idea of The Trafalgar Way in 2005 for the Trafalgar bicentenary, had also observed the way in which other countries had documented journeys and waymarked paths to celebrate people and moments in history. Examples include 'La Route Napoleon' in France, or Paul Revere's Ride in the USA, both well-known events in their respective national histories. Though the British Isles are crisscrossed with waymarked paths and established routes, no comparable historic journey existed prior to 2005.
The Trafalgar Way takes a little-known event from history in a similar way to those commemorated in France and the USA and brings it alive. We hope future generations, especially families and children both at home and abroad, will come to recognise the significance of the Trafalgar Way and the story behind it.
2. The Legacy of Trafalgar
Schoolchildren are no longer taught about Georgian history; neither do Royal Navy personnel learn about naval history from this period. Yet both Trafalgar and the threat of Napoleonic invasion are significant in our history and vital to our national identity. The 1805 Club is an organisation that helps to fill this void by offering education by direct and indirect means, as well as working towards the preservation of artefacts, art and buildings from the time. In this way, the legacy of those who fought, died, or survived at Trafalgar always remains protected.
3. A Celebration of Communities
The events during the summer of 2005 to inaugurate The Trafalgar Way galvanised thousands of people and local communities. Through its programme of building public engagement with The Trafalgar Way, The 1805 Club hopes to encourage residents and visitors to villages, towns and cities along the Way to form communities of interest for the present day and the future. Every place through which Lapenotiere journeyed in 1805 would have been a thriving community, each rich with its own characters, stories and cultural identity. We aim to celebrate these aspects of British life, past and present, and help bring them to life for locals and tourists alike to enjoy.
4. Connecting People with our Maritime Heritage
Our nation's connection with the Royal Navy and its serving, reserve, retired and youth contingents is a strong and lasting one. Although The Trafalgar Way marks an overland route, it represents just a tiny element of a much bigger picture. Britain is an island nation and the Georgian Navy protected its national sovereignty as well as policing the seas at a time of great geopolitical upheaval. Our objectives include reminding people of our rich naval heritage, reconnecting them with our seafaring past, present and future.
Our Values
The Trafalgar Way initiative abides by and promotes the following core values:
Community
Fun and participation
Sharing of knowledge
Authenticity
Youth engagement
Inclusiveness and tolerance
The Trafalgar Way is a non-political initiative without religious affiliation.