John Richards Lapenotiere
From Ilfracombe to posterity
All evidence, including his own words, shows John Richards Lapenotiere to be an unpretentious, dedicated career officer and a family man. His delivery of Collingwood's Trafalgar Dispatch afforded him a moment of glory. But how did he come to be at Trafalgar in command of the Pickle, and what became of him after his now-famous journey?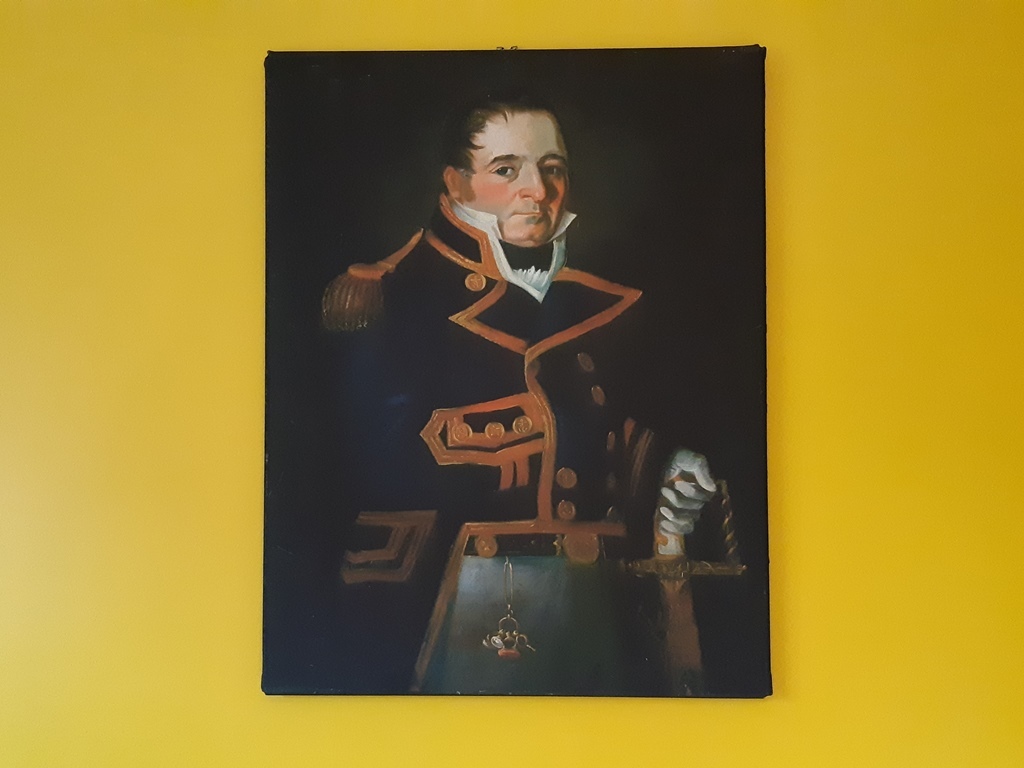 Captain John Richards Lapenotiere (1770-1834)

A copy of the portrait in the collection at NMM Greenwich, believed to depict Lapenotiere circa 1811. Lapenotiere was promoted to post-Captain in 1811. He is shown in captain's (under three years) full-dress uniform 1795-1812. His left hand holds the hilt of the 100-guinea Lloyd's Patriotic Fund sword, presented to him on his return to England with the dispatches, with the name 'Pickle' visible on the scabbard decoration. This portrait is said to be one of a pair bequeathed to the museum by Lapenotiere's granddaughter, the missing half of the pair being a portrait of Lapenotiere's wife.
Poor Lapenotiere had real trouble with his name. It's
mis-spelled all over the place
in contemporary documents which implies it was hard for people to pronounce, too. This must have frustrated him, and might have hampered his progress as a naval officer, although he was clearly held in high esteem. A look at Lapenotiere's history, career and life before and after Trafalgar builds an impression of a steady, determined and perhaps stubborn commander, who was nonetheless extremely capable and acclaimed by his superior officers on more than one occasion. This fits well with our knowledge of his journey from Cadiz to London with the precious Trafalgar Dispatch in his safekeeping.
Master of the Pickle
John Lapenotiere was born in 1770 in Ilfracombe in Devon and baptised John Richards, possibly in honour of some potential benefactor. His exact date of birth is not known. Throughout his career, Lapenotiere signed his name the plain way, without any accents over the 'e's. The name probably started as 'de la Pénotière', a French Huguenot name. The family had come to England following William of Orange's accession in 1688. John Richards' great-grandfather was the son of a French nobleman and became a colonel in the British army.
Frederic Lapenotiere, John Richards' father, had instead chosen the Navy. He examined for lieutenant in 1766 but did not receive his promotion until 1780, when son John joined him at sea at the age of 10. From the age of 14, Lapenotiere spent six years training under American explorer Nathaniel Portlock. He twice circumnavigated the globe, visiting the north-west coast of America and accompanying Captain Bligh's second breadfruit mission on board companion ship Assistant. In 1794 Lapenotiere was made lieutenant and given command of his first vessel, the 8-gun schooner Berbice.
Lapenotiere married Lucia Shean, his first wife, in 1797 in London. Their first two children died young but two daughters survived. Lucia herself died in 1804 and John remarried in 1805, this time to Mary Ann Graves, daughter of another naval officer. They had a further seven children. At least one of Lapenotiere's sons followed him into the Navy.
In 1802 Lapenotiere was appointed to command HM Schooner Pickle. The Naval Biography records that that "His exertions in saving the crew of the Magnificent 74, when that ship was wrecked near Brest, Mar. 25, 1804, obtained him very great credit." Pickle was generally employed as a messenger ship, running back and forth between British shores and various locations overseas. There are notes in the Naval Chronicle showing that Pickle and Lapenotiere were regularly involved in the transmission of dispatches to and from the Mediterranean, and it is likely that Lapenotiere knew the routine very well. Furthermore, Vice-Admiral Collingwood was aware of Lapenotiere and commented on his hard-working nature to Vice Admiral Cornwallis during their surveillance of Napoleon's invasion preparations in Brest: "...the Pickle keep a highly commendable lookout; but it would be desirable to have a cutter here to be some relief to the Pickle, whose commander can never be in bed during the night."
Lapenotiere's rewards
For his safe delivery of the news from Trafalgar, Lapenotiere was promoted instantly to commander. He was presented with a silver sword worth 50 guineas from Lloyds Patriotic Fund, as were the other Trafalgar Captains. After writing reminders to William Marsden, Lapenotiere was eventually paid his £500 gratuity for safe delivery of Collingwood's Trafalgar Dispatch, equivalent to around £30,000 today, and worth a few years' salary back then. In addition, he took his share of the battle spoils, receiving £65 11s in prize money and £161 in the general parliamentary reward.
Life after Trafalgar
With more seniority, opportunities to command were not always forthcoming. However in 1806, Commander Lapenotiere was appointed to the brig Orestes and deployed in the aftermath of the Second Battle of Copenhagen. It was during this command in late 1807 that Lapenotiere suffered a dreadful accident, being caught in an explosion on board the vessel which left him terribly burned and injured and fearful for the sight in his right eye. He recovered in due course, and while recuperating, received this warm message from fellow captain, Thomas Staines.
"Sir, I most sincerely lament that you are so great a sufferer on this melancholy occasion, but more particularly so, as I fear his Majesty will, at least for a considerable length of time, be deprived of the services of so meritorious and zealous an officer."
Captain Staines continues that he hoped "that your speedy recovery may enable you to continue those indefatigable exertions in the public service which I have, with admiration, had an opportunity of witnessing, since I have been favoured with your co-operation under my command."
A few years later, Lapenotiere crops up again in naval records for his part in capturing several useful French ships. In October 1810, Admiral Sir Robert Calder, the Commander-in-Chief at Plymouth, writes to the Admiralty about the capture of the French privateer Loup Garou:
"This capture ... confirms the good opinion I have long entertained of Captain Lapenotiere as an Officer, whilst serving under my command at different times."
The following year, Lapenotiere was promoted to post-captain, but never got to take command under that rank. Shortly afterwards, he retired to enjoy life on dry land with his family in Cornwall.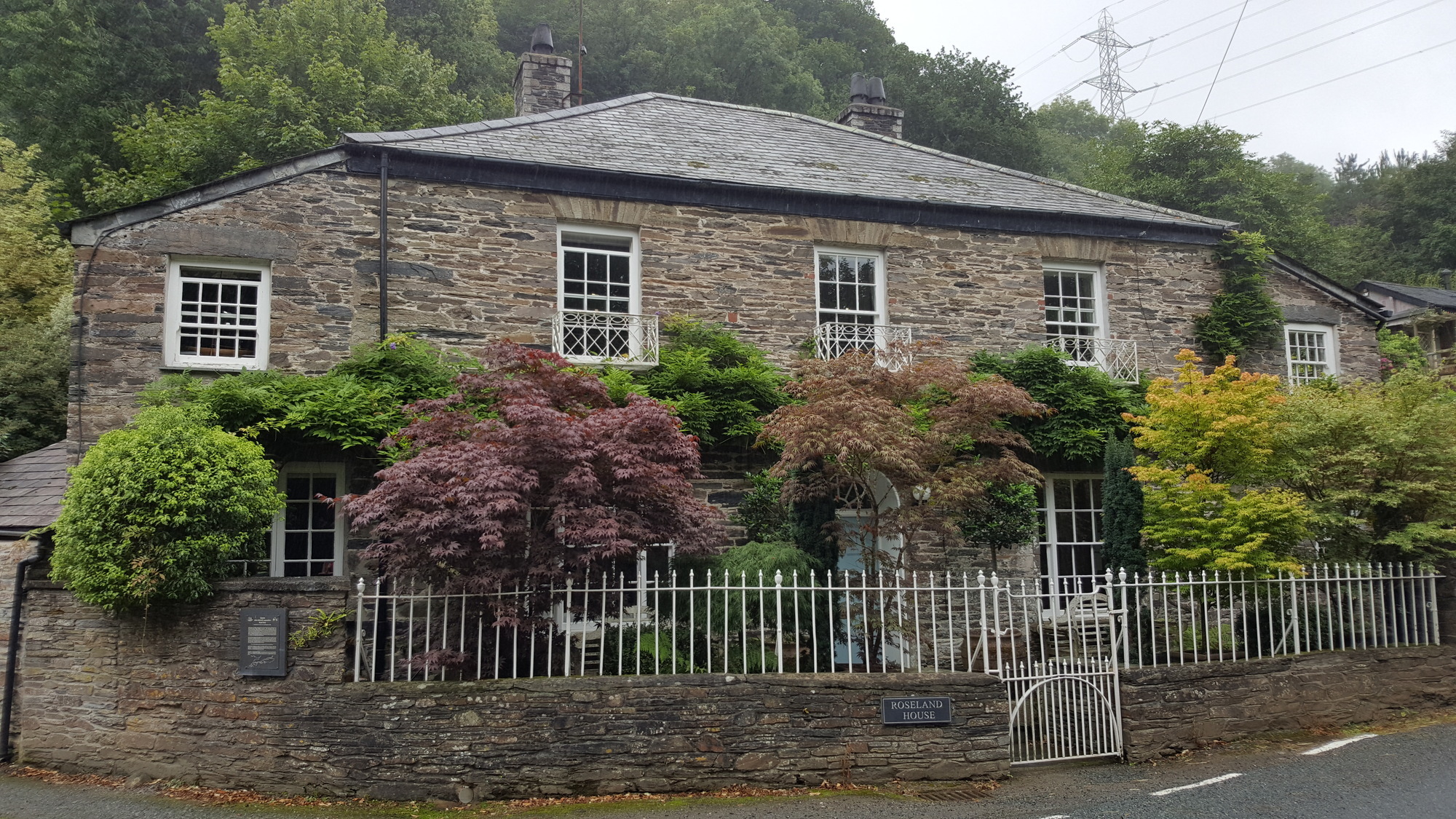 The house at Menheniot

Lapenotiere's home in Menheniot is tucked away down tiny lanes, but marked with a plaque noting his achievements.
Not far from Liskeard in Cornwall is the tiny village of Menheniot. Here Lapenotiere retired to his family home with wife Mary Ann and his surviving children. Two of Lapenotiere's sons also joined the Royal Navy.
After a quiet retirement, John Richards Lapenotiere died in 1834 from complications following a fall from a horse. He is buried in the graveyard of nearby St Lalluwy church and his tomb is marked with a plaque installed by The 1805 Club.