Woodyates
Lieutenant Lapenotiere changed horses at the The Woodyates Inn - at the time an important coaching inn (it was later known as the Shaftsbury Arms which was demolished in 1967). A plaque commemorating this little hamlet's brush with history can be found on a block of Portland Stone next to the bus stop.
Return to overview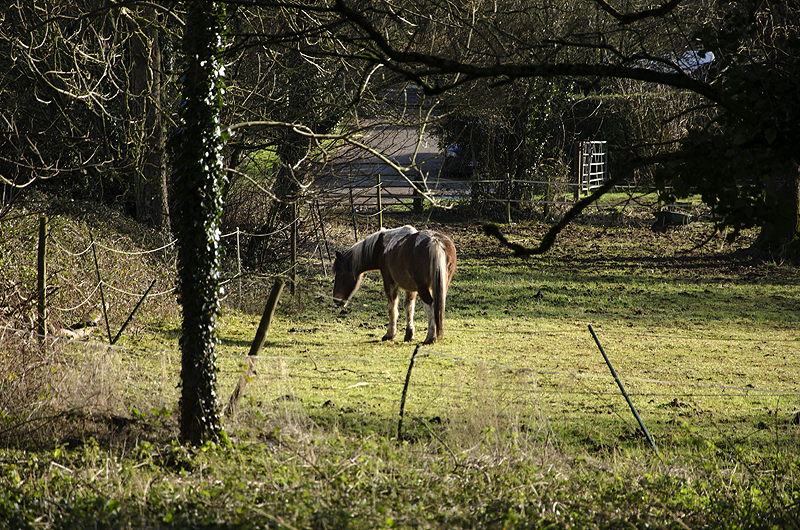 A pony grazing in Woodyates
We bet she's glad she doesn't have to pull a post-chaise to Salisbury today. Image © Ian Gregory
Martin Down Nature Reserve, Coombe Bisset, Longford Estate
The Trafalgar Way now leaves Dorset and enters Hampshire briefly before crossing back into Wiltshire. The first feature travelling north east on the A354 is the Martin Down Nature Reserve which lies to the south of the road. Consisting of 350 hectares of unspoiled chalk downland it is extremely rich both in downland wildlife and archeology. Travelling further east on the A354 the road turns almost due north towards Coombe Bissett.

Coombe Bisset is in the Ebble Valley in Wiltshire and here a medieval packhorse crossing of the River Ebble survives - now used as a footbridge. It's worth travelling further up the Ebble Valley, at least as far as Broad Chalke, to take a look at the pretty villages along here. On the nearby Longford Estate are the Great Yews - a beautiful and mysterious place that is both a Site of Special Scientific Interest and a Special Area of Conservation. Although visitors are allowed on the site this is on an individual basis and you would need to apply to the Longford Estate for permission.

The Salisbury Road - or A354 - now takes The Trafalgar Way into Salisbury.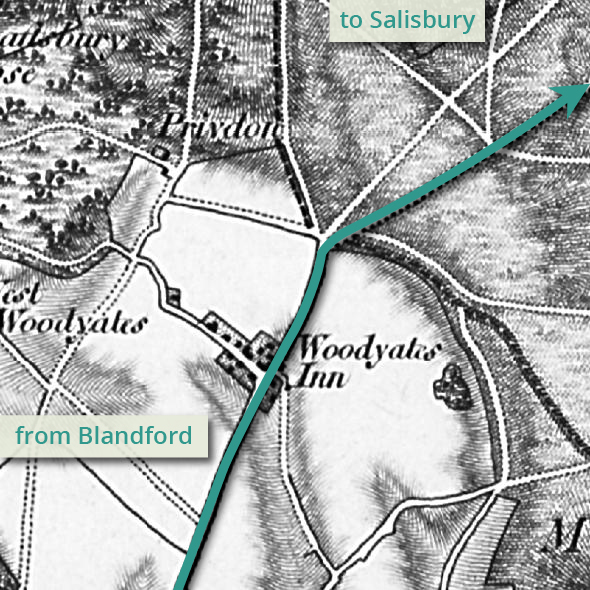 The route through Woodyates
Map image © Cassini Publishing Ltd.
The route through Woodyates
Have fun exploring!