Staines-on-Thames
At Staines Lieutenant Lapenotiere changed horses at The Bush Inn which no longer exists. The Trafalgar Way plaque can be found on the side of the Old Town Hall in Market Square, now being converted to residential use.

It was at Staines that the Barons gathered in 1215 before proceeding to Runnymede to sign the Magna Carta. For centuries Staines has seen the comings and goings of royalty travelling to and from Windsor. It has also been an important staging post for government messengers and the London Road through Staines was turnpiked quite early in 1727. By 1836 there was a daily local coach from Staines to London as well as the many long-distance coaches which stopped there each day.

Staines has been the site of an important crossing of the River Thames for over two thousand year. A wooden bridge is known to have been on the site since Roman times although the first direct written reference to it is dated 1228. When Lieutenant Lapenotiere crossed late on the 5th November 1805 it was a cast iron bridge recently opened in 1803. This bridge subsequently failed and another iron bridge was built and opened in 1807. The current stone arched Staines Bridge opened in 1832.

Return to overview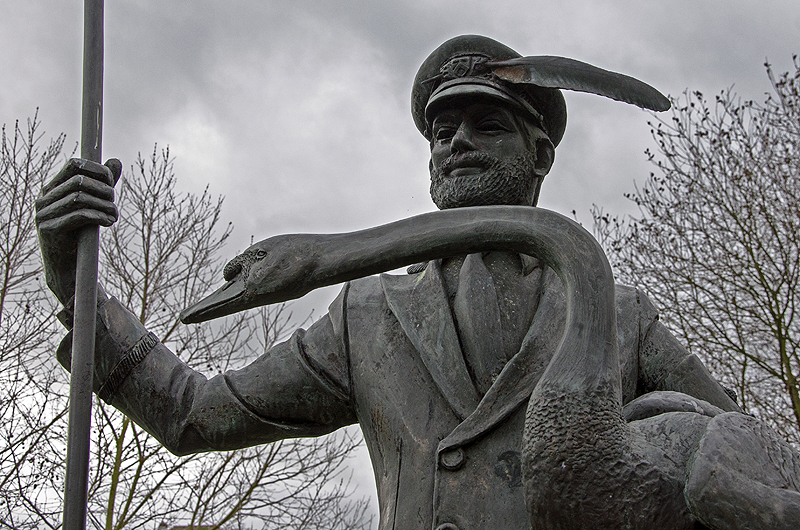 The Swanmaster at Staines
Explore the riverbank at Staines. Image © Ian Gregory
Staines Reservoirs, Bedfont Lakes Country Park, East Bedfont, North Feltham, Hounslow Heath, Hounslow Barracks
From Staines Bridge The Trafalgar Way roughly follows the A308 then the London Road which becomes the Staines Road (A315) passing the large Staines Reservoirs and the Bedfont Lakes Country Park, then through East Bedfont which would have been a village at the time of Lieutenant Lapenotiere's journey. It has a remarkable medieval church, St Mary the Virgin, believed to be mid 12th century. It contains 14th century wall paintings and, outside, some eye catching topiary - a feature here since 1704 and now the largest sculpted yews in London.

Although this area saw massive building in the modern era Bedfont enjoys a large central conservation area around Bedfont Green. To the east is the River Crane around which are a few remaining parts of wild gorse and bracken.

To the south is North Feltham and The Trafalgar Way then passes the northern tip of Hounslow Heath which covers 200 acres, all that remains of what was once a 4000 acre heathland, but still a wonderful little piece of wild country in the midst of the urban conurbation of Greater London. Several great armies have been stationed on the heath in times of war including by Cromwell in the English Civil War. The mapping of the whole United Kingdom by the Ordnance Survey began with the measuring of an accurate base-line on Hounslow Heath.
Today Hounslow Heath is home to a Nature Reserve, where you might find wildlife scenes to capture for a postard image.

Hounslow Barracks was built in 1793 to the north of Staines Road, one of 40 built around the country as part of the preparations for an expected French invasion of England - an invasion for which Napoleon Bonaparte had made extensive plans but which never occurred.
The route through Staines
Map image © Cassini Publishing Ltd.
The route through Staines
You can make out from this old map excerpt the importance of the bridge here. The towpath along the Thames crossed sides at Staines, and it was here the horses would be led up and over to continue their journey on the other side.
Have fun exploring!