Honiton
Honiton is a market town close to the River Otter. Mentioned in the Domesday Book It grew along the ancient Roman road called the Fosse Way which linked Exeter with Lincoln. In the 17th Century it was a centre for lacemaking and later Queen Victoria's wedding dress would be made of Honiton lace. All Hallows Museum of Lace, situated in one of the oldest buildings in Honiton, holds probably the most important collection of Honiton lace in the world. Despite its early origins the town boasts many fine Georgian houses - built as a result of major fires in the town in 1747 and 1765. In Honiton you can see The Trafalgar Way plaque on what used to be The Angel Inn and is now a Costa Coffee. This is situated on the High Street overlooking the war memorial in front of St Paul's Church.
Honiton lies just North of the East Devon Area of Outstanding Natural Beauty with its breathtaking landscapes.
Return to overview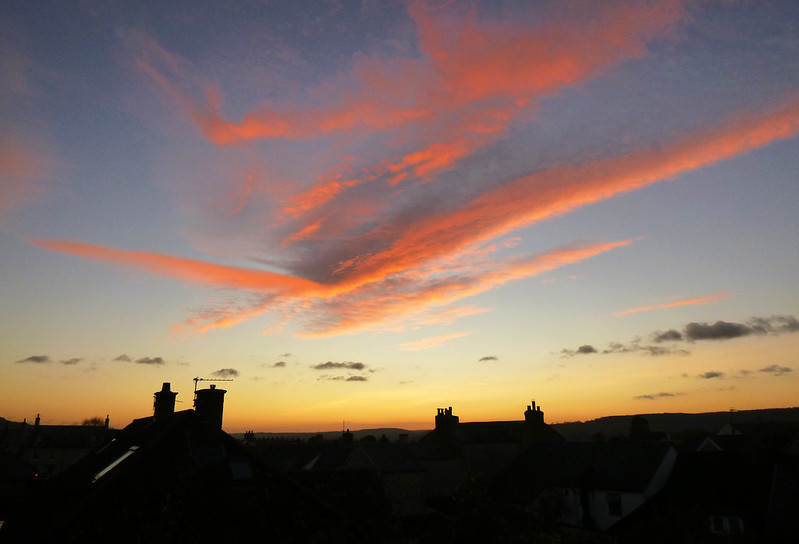 Axminster: sunset views west towards Honiton
Sunsets make great postcard images! Image © Chris Andrew, used with permission.
Wilmington, Shute, Kilmington
After leaving Honiton Lieutenant Lapenotiere headed towards Wilmington which means he would have traced the route of the modern day A35 towards Axminster. At Wilmington he would have raced past the thatched 18th century White Hart Inn. After this The Trafalgar Way heads south east before then veering north east near Shute, a village surrounded by farmland and woodland, nestled under the 163 metre Shute Hill. The 13th Century St Michael's Church contains many monuments to the Pole family. Two of the old Pole residences, Old Shute House (now owned by the National Trust) and New Shute House, are nearby.

Further East is Kilmington, an attractive village that lies within two Areas of Outstanding Natural Beauty. Just east of this The Trafalgar Way leaves the A35 and follows the B3261 into Axminster along a service road which has been named, "Trafalgar Way". Thanks, Axminster!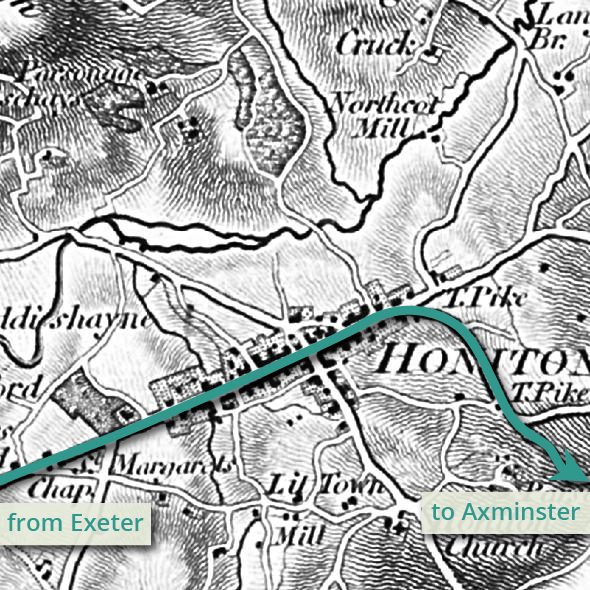 The route through Honiton
Map image © Cassini Publishing Ltd.
The route through Honiton
Have fun exploring!