Axminster

Axminster is a market town on the eastern border of Devon. The town dates back to Celtic times of around 300 BC and is one of only 15 British towns that appears on the Roman era Peutinger Map. Like all ancient towns it is full of architectural treats and beautiful vistas. Open your eyes and get hunting for great images!

The town gives its name to a type of carpet, now made all over the world. When the first ones were made in the town in 1755 they were so labour intensive they would peal the church bells when they finished one!

The George Hotel was once a very busy coaching inn where 16 coaches a day would stop to change horses and get refreshments. The Trafalgar Way plaque, commemorating Lapenotiere's arrival in the town with the Trafalgar Despatch can be found on the High Street on the left just before the George on the Old Bellhouse.

The celebrity chef and TV presenter Hugh Fearnley-Whittingstall has his River Cottage H.Q in the Axe Valley and he has an organic shop/market and canteen in an old inn that once provided the town's ballroom. The nearby Blackdown Hills are an Area of Outstanding Natural Beauty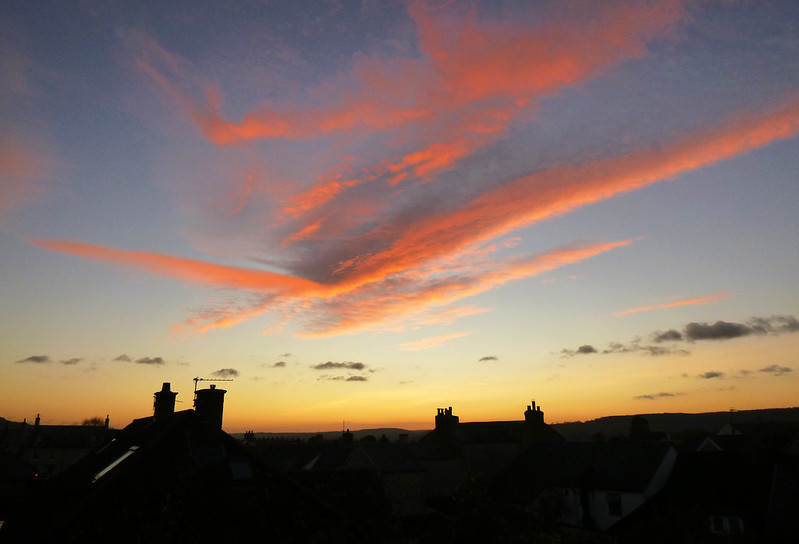 Evening Sky Over Axminster
Photo © Chris Andrew, Courtesy of Chris Andrew
Charmouth, Chideock, Seatown, Higher Eype, Symondsbury

Heading east from Axminster The Hunters Lodge Inn is a 16th Century coaching in on the A35 where it starts to head south towards the coast on the Devon/Dorset border.

Charmouth, at the mouth of the River Char, enjoys stunning views of the Golden Cap, the highest cliff on the south coast of England. The village dates back to the Iron Age and a major battle took place here between Saxons and invading Danes in 831 or 832. The Danes are reputed to have made "cruel ravage and slaughter".

The buildings on either side of Charmouth's main street date from the 17th or 18th centuries. It became a holiday resort in the 18th and 19th centuries and Jane Austen wrote that it was "a nice place for sitting in unwearied contemplation."

Abbots House, formerly The Queen's Armes Hotel, was built in the early 16th Century and gave shelter to the fugitive King Charles II on the 22 September 1651 after his defeat at The Battle of Worcester. A local man arranged for the King to be spirited to France but his wife panicked and knocked the plan on the head!

Chideock has been described as one of Dorset's most beautiful villages (despite the busy road) with its many thatched houses. It has a strong tradition of Catholicism and four local men were executed for their faith in the late 16th century. Their trial took place in what is now Chideock House Hotel. The Chideock Martyrs, as they are known, have a memorial near Chideock Castle. This was a Royalist stronghold in the English Civil War and was left ruinous by the parliamentary forces in 1645. What is left (mounds and trenches) is on the aptly named Ruins Lane. There is a Roman Catholic church in the village which is unusual in being in the Romanesque style. It is called Our Lady Queen of Martys, and St Ignatius.

Less than a mile away is the coastal hamlet of Seatown on the Jurassic Coast. Being within a mile of The Trafalgar Way this beautiful location qualifies as a subject for a Post Card from The Trafalgar Way. Here you can get another amazing view of the Golden Cap cliff and hunt fossilised ammonites and belemnites.

Continuing east the A35 deviates from The Trafalgar Way near Higher Eype and Symondsbury. To follow The Trafalgar Way take the B3162 into Bridport.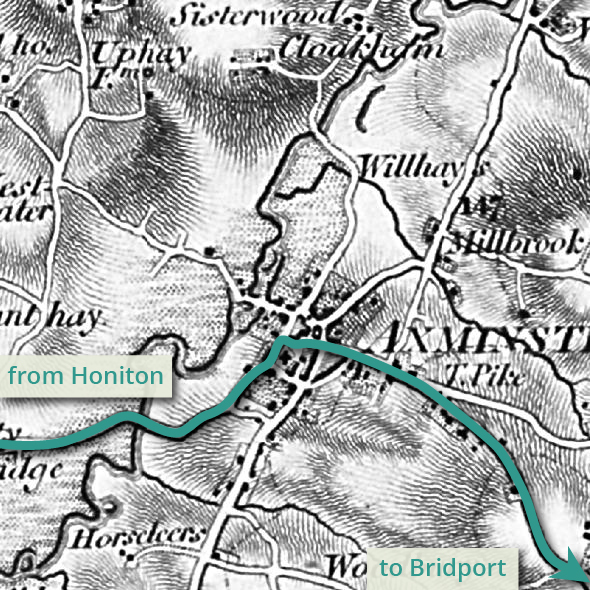 The route through Axminster
Map image © Cassini Publishing Ltd.
The route through Axminster
Have fun exploring!