Fraddon
Lapenotiere changed horses at The Blue Anchor just south of Fraddon and you can see The Trafalgar Way plaque commemorating his visit on the outside wall. The pub prides itself on being the first place that he stopped to take refreshments on his journey to London with news of Trafalgar. The nearby villages of Indian Queens and St Columb Road are on the original Trafalgar Way route and in fact the inn that gave Indian Queens its name would have been there at the time of Lapenotiere's journey (it closed in the 1960's). The inscribed lintel from the inn now adorns a house in the village.
Return to overview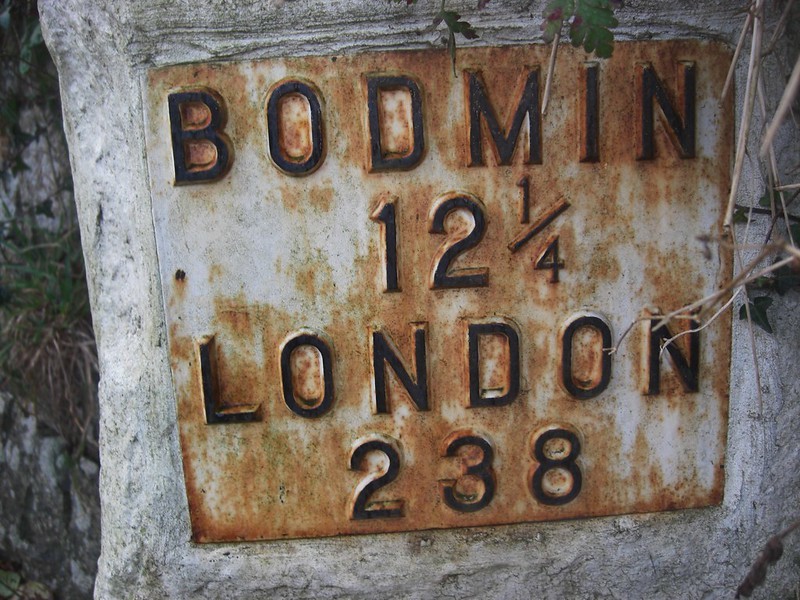 Mileplate, Fraddon. Photo courtesy of Tim Jenkinson
Goss Moor National Nature Reserve, Castle an Dinas, Higher Town
Shortly after heading North East out of Fraddon The Trafalgar Way passes north of the Goss Moor National Nature Reserve, the largest continuous mire complex in south-west Britain consisting of mainly peatland and lowland heath. It is overlooked by Castle an Dinas to the north, one of the most important hillforts in the southwest of Britain and a place rife with tales of murder and ghosts. It was here that a notorious murderer was starved to death in a cage placed on a rock which is still on the site.

The church of St Dennis lies to the south and is also situated within the remains of an ancient hillfort.

The A30 once ran through the middle of Goss Moor and much of the old route is now a cycle lane. The Atlantic Coast railway line between Par and Newquay also crosses Goss Moor.
Just north of Higher Town you can leave the A30 and join The Old Coach Road - whose name speaks for itself, and after that the A389 takes you into Bodmin.
Belovely/Belowda
Old coaching references tell us that the posting route south of Bodmin lay through the tiny hamlet of "Belovely", now known as Belowda, which is found along single-track lanes to the north of Goss Moor. In the late 19th century this location was home to the Beacon Tin Mine and Belowda Beacon was a site of Special Scientific Interest for its collection of mineral deposits. Take care if travelling these narrow routes, lined with high hedges and overgrown with grass down the centre. Perhaps this was the way Lapenotiere travelled as he made his way to Bodmin?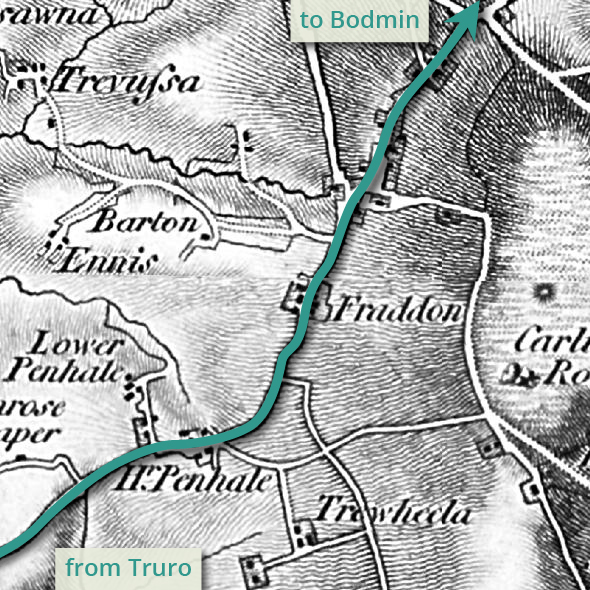 The route through Fraddon
Map image © Cassini Publishing Ltd.
The route through Fraddon
Have fun exploring!