Truro
Travelling as he was by post chaise express Lieutenant Lapenotiere would have had to change horses many times on his journey to London in 1805. He undertook his first change of horses at The Red Lion Hotel on Boscawen Street in Truro. This historic inn was fatally damaged when a lorry smashed into it in 1967 and it was subsequently demolished but you will find The Trafalgar Way plaque on The House of Fabrics on Lemon Street.
Truro is Cornwall's county town and only city. Its most striking features are the Royal Cornwall Museum, Truro Cathedral, the Hall for Cornwall and Cornwall's Courts of Justice. Truro prospered particularly in the 18th and 19th centuries when it was an important centre for the tin trade and elegant Georgian and Victorian townhouses were built, such as those seen today in Lemon Street.
Exploring Truro is bound to reveal lots of interesting views and subjects for a suitable 'Postcard from the Trafalgar Way'!
Return to overview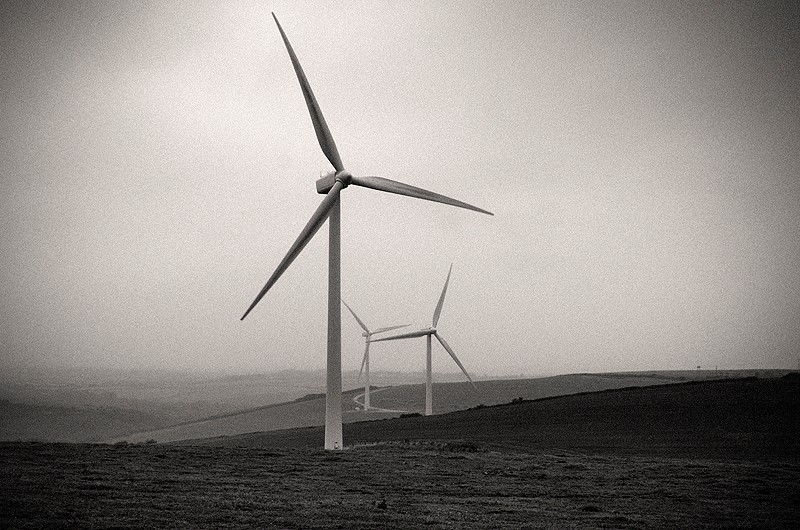 Wind turbines at Carland Cross
Photo © Ian Gregory
Newlyn Downs
After quite a steep climb out of Truro Lapenotiere, in his post chaise express coach, would have travelled along a route roughly tracing the modern A39 before joining today's A30 at Newlyn Downs.

Newlyn Downs is both a Site of Special Scientific Interest and a Special Area of Conservation. The soil of the site is permanently waterlogged in large places and this is the largest area in Cornwall of Southern Atlantic wet heath - meaning that it would probably have been a difficult place to cross in 1805 when the roads this far west were little more than drovers tracks. The landscapes of inland Cornwall have a bleakness and romance all of their own and make wonderful subjects for pictures.
A30
The modern A30 now passes through or near Chapel Town, Summercourt and St Enoder. Don't be afraid to feature this busy modern road - a striking image does not always have too be picturesque - but please do not put yourself at risk in any way.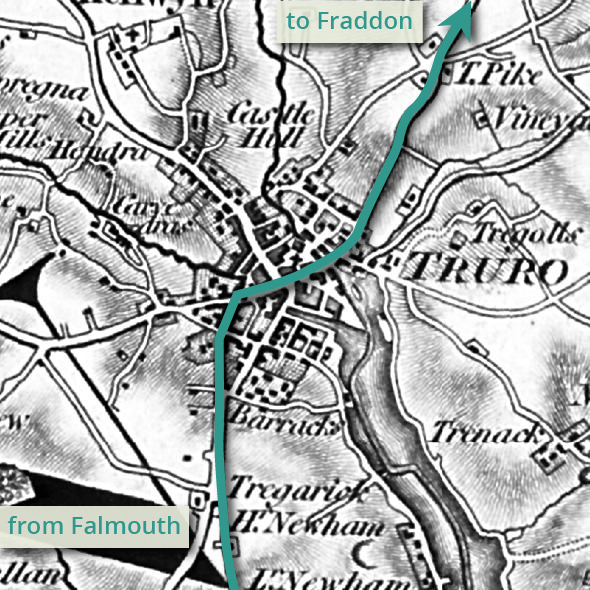 Map image © Cassini Publishing Ltd.
The route through Truro
A look at the Old Series OS for Truro suggests that the main route in from Penryn and points south was not along Lemon Street, as we might imagine today. Instead, the coaches would have come down what is now Infirmary Hill.
You can check out more old maps along our interactive map of The Trafalgar Way by selecting 'Old maps' from the filters available below it.