There are a multitude of famous names known throughout the naval world, but this is the story of a dog, an important dog, a naval dog. Cuthbert Collingwood's dog…

Collingwood was Horatio Nelson's good friend and fellow naval officer, arguably most well known for having been his second in command at Trafalgar. He served in some of the most famous battles of the period, including The Glorious First of June in 1794, The Battle of Cape St. Vincent in 1797 and, as previously mentioned, The Battle of Trafalgar in 1805.

Throughout his time serving he wrote plenty of letters, as did many officers and men, but one particular friend popped up regularly in his correspondence.

Bounce the Dog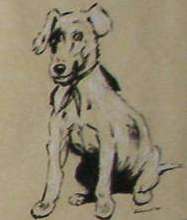 Bounce travelled almost everywhere with Collingwood. Home to Newcastle and out walking (when Collingwood was returned from sea) in the hills near Morpeth, Northumberland and even to sea.

When Collingwood took Bounce as a puppy on the Mermaid in 1790, he described him as a 'charming creature' and remarked that 'he is a good dog, delights in the ship and swims after me when I go in the boat'. Bounce went on to feature in Collingwood's letters home over the years, and seemed to have a great character, though, like many dogs, he was not a fan of loud noises, and usually hid below decks to avoid the sounds of cannon fire.

Prior to Trafalgar, Collingwood wrote that 'Bounce is my only pet now, and he is indeed a good fellow'. When Bounce seemed sad, Collingwood wrote that he would sing him to sleep with a parody from Much Ado About Nothing - "Sigh no more, Bounce, sigh no more, Dogs were deceivers never; Though ne'er you put one foot on shore, Trust to your master ever"

After Trafalgar, Collingwood was honoured and made a Baron. He wrote home of Bounce that he was 'out of patience with Bounce. The consequential airs he gives himself since he became a Right Honourable dog are insufferable. He considers it beneath his dignity to play with commoners´ dogs and truly thinks that he does them grace when he condescends to lift up his leg against them. This, I think, is carrying the insolence of rank to the extreme, but he is a dog that does it'. Quite a character...

In 1807, Collingwood wrote home on the subject of officers joining the Navy, who were well born but unsuitable. One of these, a young man after a commission for Lieutenant, frequently tried to use his connections for advancement. Collingwood wrote of him that he was 'of no more use here as an officer than Bounce is, and not near so entertaining'. Collingwood was known to be quite blunt in his manner.

Heartbreak
4 years after The Battle of Trafalgar, Bounce sadly died, falling overboard. Collingwood wrote home to his sister informing her that 'he fell overboard in the night. He is a great loss to me. I have few comforts, but he was one, for he loved me. Everybody sorrows for him. He was wiser than [many] who hold their heads higher and was grateful [to those] who were kind to him'. It has been mentioned that perhaps someone tossed Bounce overboard as he was struggling with rheumatism, to put him out of his misery, but I hope not...

Anyway, the crew made a miniature casket and draped it with a union flag for a burial at sea. I know, right? Who's chopping all those onions...? Don't worry, the story of Bounce doesn't end here. The crew loved Bounce as much as Collingwood and upon arrival at Mahon in Menorca, where Collingwood was to command the Mediterranean Fleet, his crew went out and bought a black and white Menorcan rabbit hound, Bounce 2.

The crew made him a tarred pigtail on his neck and dressed him as a sailor with a neck scarf! Bounce 2 would parade with the marines, swim to the ship to let them know the parade onshore was over and then back to sleep in the sun at the house. After Collingwood died in years to come, Bounce was looked after by various crew members.

Nobody is quite sure of the breed of the first Bounce, and it's not something that has survived, but we do know he was a very good boy and well loved by all who came to know him!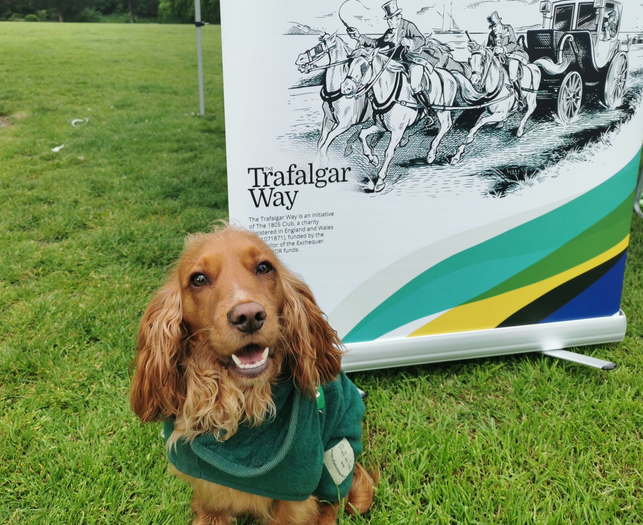 Dogs of The Trafalgar Way
We love this story about Bounce and even have our own hashtag to track our furry friend's adventures #DogsOfTheTrafalgarWay

Spotted one of our Trafalgar Way plaques?

Just out for a wander in one of the towns along The Way?

Send us a photo or use the hashtag and your own Bounce may feature on our website!