The National Museum of the Royal Navy is opening the doors once more post lockdown, at the end of the month, and we're looking forward to a new perspective on history.
Most famous for being the flagship of Horatio Nelson at Trafalgar, the Victory has a long history behind her. The ship was ordered in 1758 and laid down in 1759 (in seven parts initially) at Chatham Dockyard, which is also well worth a visit when all this is over! 6 years, and around 6000 (though this is debated) trees later, Victory is launched in 1765, but moved to the Medway almost instantaneously, as part of a reserve fleet. Thankfully, to end this sad story, in 1778 she was commissioned and named Victory, it's thought to have been as recognition of the Annus Mirabilis (year of miracles) of 1759, where the British managed a string of military victories over the French.
In May 1778 she became the flagship of Augustus Keppel, then in command of the Channel Fleet. In July of the same year Keppel's fleet engaged a French fleet at Ushant. It wasn't a decisive victory, but a few years later Victory was also part of the Second Battle of Ushant under Vice-Admiral Richard Kempenfelt. 12 British ships captured 15 French transport ships and around 1500 soldiers and seamen. In 1782 HMS Victory became the flagship for Richard Howe, famous for his role in the Battle of Quiberon Bay in 1759. Howe was tasked with ensuring the safe arrival of transport ships to Gibraltar, carrying supplies. A number of Howe's ships were forced in to the Mediterranean by strong currents, and the enemy fleet followed them from Algeciras. The British regrouped East of Gibraltar and eventually managed to deliver all supplies safely. However, as they left Gibraltar the Spanish fleet followed and HMS Victory took part in the Battle of Cape Spartel. This was an indecisive battle and Howe sailed back to England afterwards.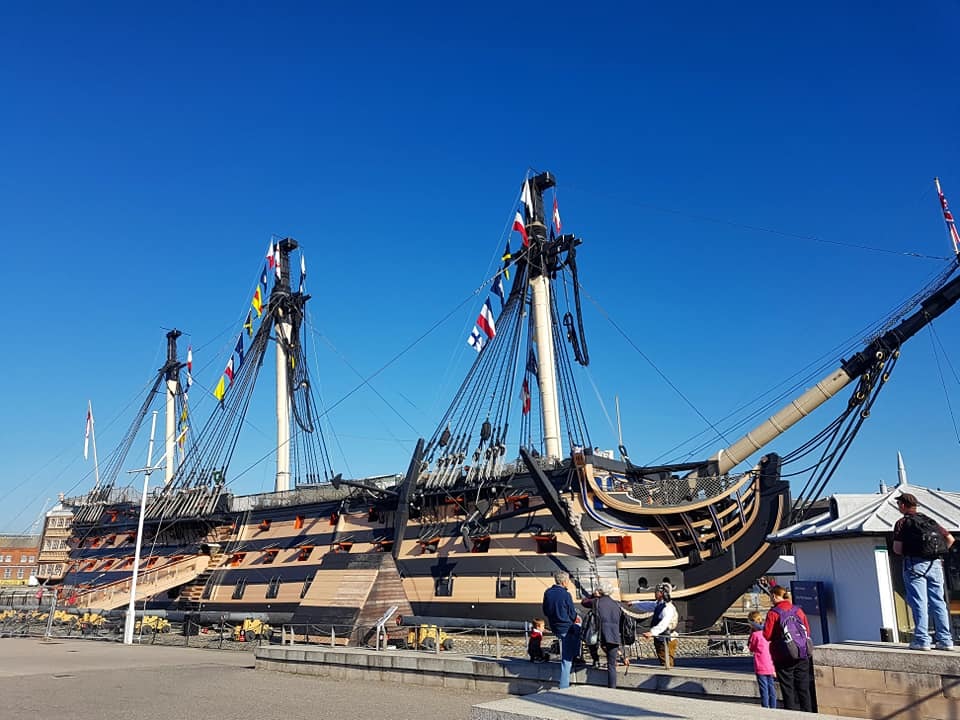 In 1797 she was handed over to John Jervis. In 1800 she underwent a refit, including a new figurehead and masts and, more importantly, an increased number of guns. Three years later, refit complete, at a cost of around £70k, Horatio Nelson raised his flag onboard.
"Friday 20 May a.m. ... Nelson ... came on board. Saturday 21st Unmoored ship and weighed. Made sail out of Spithead"
Victory was under orders to meet up with Cornwallis off Brest, but after 24 hours of searching failed to find him. Nelson shifted his flag to the Amphion and rejoined Victory in July off Toulon. In April 1805 French Admiral Villeneuve escaped the Toulon blockade. Nelson made chase across the Atlantic, before chasing them back again. The Franco-Spanish fleet was involved in the indecisive Battle of Cape Finisterre with Calder's squadron on 22nd July. Calder & Nelson both joined Cornwallis & the Channel Fleet off Ushant in August and Nelson continued on to England in Victory.
In September 1805, of course, Nelson famously left Portsmouth for the final time. Victory is probably most well known for being Nelson's flagship at the Battle of Trafalgar.
Victory headed up one column with the other being headed up by Royal Sovereign. Unfortunately, she was so badly damaged in the battle and in the following storm that she couldn't sail and was then towed to Gibraltar for repairs. After refit, Nelson's body was taken back to England on board Victory for his funeral at St Paul's Cathedral in January 1806.
In 1807 she was relegated to a second rate, with the removal and replacement of a number of her guns and in 1808 served as flagship for Saumarez for a time in the Baltic.
Between December 1810 and April 1811 she was a troopship and in 1812, she was moved to the mouth of Portsmouth Harbour as a depot and then prison ship. In 1817 she was relisted as a first rate carrying 104 guns but, after a brief stint as the Port Admiral's flagship for Portsmouth, the Admiralty decided it was time to say goodbye and in 1831 they issued orders for Victory to be broken up. Thankfully the public disagreed!She sat on a mooring in Portsmouth, and was even used as a tender for a time and in 1889 she became a Naval School of Telegraphy for signalling until 1904, when the school was made a permanent building in the dockyard.
In 1921 Victory was in such a poor state after beginning to deteriorate whilst alongside at Portsmouth that the 'Save the Victory' campaign was launched and she was moved into dry dock the next year. In 1941 she sustained a small amount of damage from a bomb dropped by the Germans (you can see the damage to this day). German propaganda claimed that they had destroyed her & the Admiralty was forced to issue a denial.
In 2015 she celebrated her 250th birthday and was repainted in a more historically accurate colour scheme.
Still undergoing serious conservation work in order to ensure that the ship is stable, there are currently no top masts. She remains the oldest commissioned naval ship in the world and since 2012 has been the flagship of the First Sea Lord. The new support structure in place as part of the 13 year conservation project will be on show from the 24th of August which replicates the ship being afloat, putting less pressure on the main structure. This was necessary after, in 2016, Victory began to collapse under her own weight.
And of course, perhaps the most exciting part is that we, the general public will now be able to walk underneath the ship and get a whole new perspective on Victory and, indeed, history.