We're excited to announce that the book featuring the prize-winning collection of stories from our competition, "An Urgent Message", is now for sale on Amazon.
The book includes the amusing and descriptive title story, "An Urgent Message" as written by Adam Preston. Adam took the facts we know about the momentous journey of Lt John Richards Lapenotiere and wove them into a gripping narrative, complete with vividly imagined embellishments!
The Trafalgar Way team promoted this story,
not only to retell the tale of the Trafalgar dispatch, but also as an example to fire up the imaginations of young people. We then invited schoolchildren and individuals from the south-west and southern counties of England as well as serving naval personnel and sea cadets from anywhere in the UK to have a go at writing their own short story. Over the course of three months we enticed almost three hundred entries from young people from 7 to 21 years of age. The remit was to write any type of story, set anywhere and in any time period, but with the sole proviso that it dealt with another 'urgent message'. We were excited to see the huge wealth of creativity and emerging writing talent displayed in the entries received.
All entries were judged anonymously. A decision was hard, but the fourteen stories published in this volume were finally the ones selected by the judges to receive awards and commendations.
Pictured below, the judges meet in the Old Admiralty boardroom to discuss the shortlisted entries.
© The 1805 Club - photo credit Polly Bycroft Brown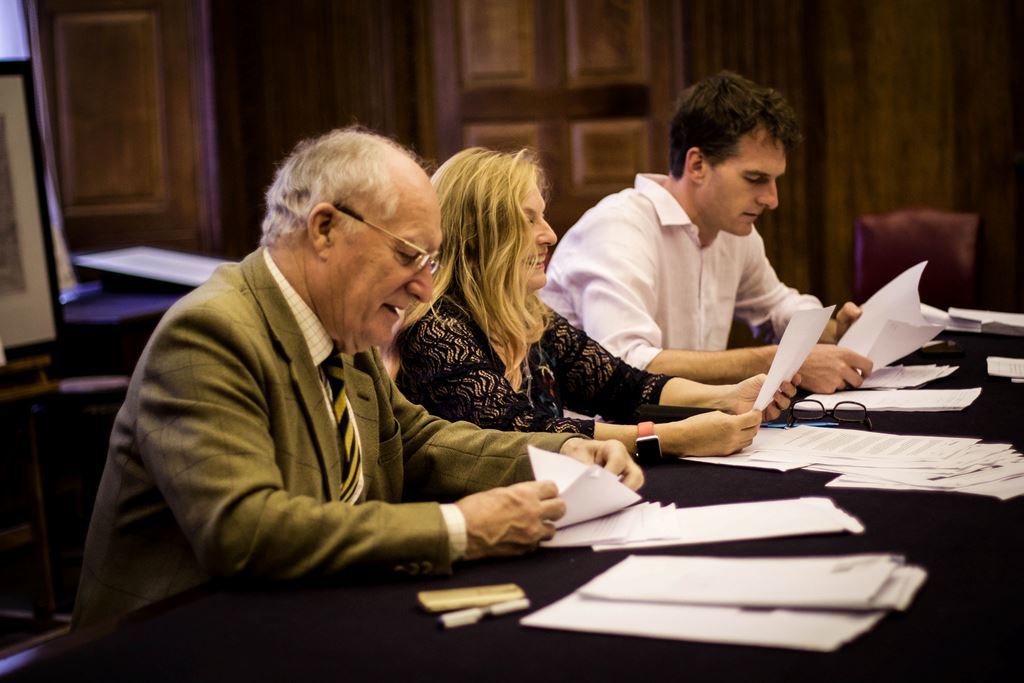 As a taster of what to expect, here is a brief synopsis of the fourteen stories:
Mayhem Meg
, a young authoress's comic adventures on a cruise ship.
The River Somme, a soldier rushes back across no man's land with a message during a great battle.
There is Still Time, a time traveller finds that the time machine has gone 100 years into the future.
The Burning Branch, a naval captain decides to assist when a garment is seen burning in a tree.
Hope in the Face of Fear, a WW2 warship is struck by torpedoes.
Tsunami Shockwaves, a comatose twin lies in peril while her sister is out sailing with their father.
Jasper, a wartime tale of a child's endeavours to get to a coastal lookout post to give an excuse for a father's failure to report for duty.
A Turn in Time, a girl goes back in time with a history textbook.
Danger at Dead Man's Rock, a child sends his dog with a message when he sees a ship sinking.
Wanna The Warrior, a girl realises that warning drums might not be loud enough and goes herself to warn a hunting party that there are dangerous crocodiles.
The Well, a girl falls down a well while rushing to deliver a message.
The Battle of Arnhem, a messenger is sent to warn that troops are surrounded.
10:59, in the last moments of WW1 a German soldier's best friend is killed
Knife Edge, in the inner city a boy decides to seek revenge for a friend who suffered a terrible knife attack.
Photo credit Paul Clarke

Please share this news and encourage your friends and family to buy a copy of this special book and appreciate the winning stories by these talented young writers.