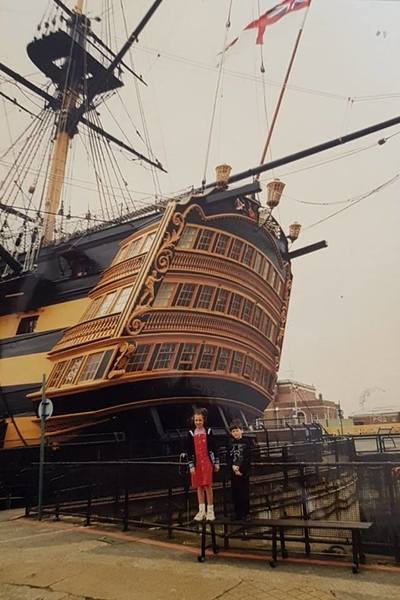 When I was about 8 years old, I visited Portsmouth Historic Dockyard (see picture, left). We did the usual tour of HMS Victory and I was bought a book on Nelson by my parents. I remember vividly reading it, as well as the Victory guide book in the car on the way home and from then on, that was that... Little did I know, 14 years later I'd be sat opposite John Humphrys in a Mastermind quarter final, answering questions on Horatio Nelson's life and career.
I loved the Hornblower TV series when it came out, and remember thinking how amazing the navy was... Obviously, the more I read, the more I realised how difficult a life it truly would have been. That being said, tales of people such as Horatio Nelson, Edward Pellew and Thomas Cochrane filled my imagination (and bookshelves) for years and joining the Sea Cadets as a teenager reinforced a love for naval history, especially when I was able to take part in the Trafalgar 200 celebrations in 2005, as part of the Massed Bands of the Sea Cadet Corps.

A few years passed and one evening, whilst home from university and watching a naval history documentary, I was rattling off facts well before the presenter even discussed them and my family joked that I should apply for the BBC quiz show Mastermind. So, at the age of 21, I did, with a specialist subject of The Life and Career of Lord Nelson. I didn't expect to get through the audition, let alone through to the quarter finals!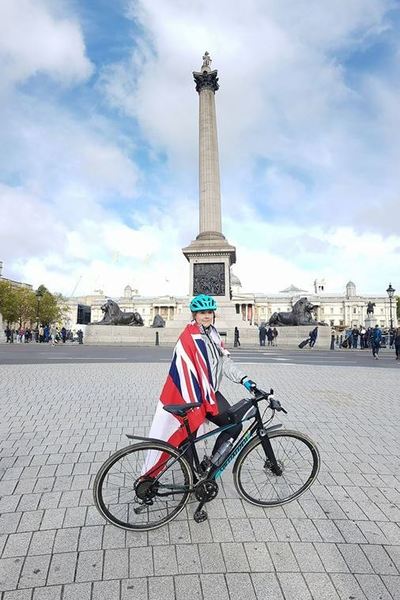 In 2016, I climbed Kilimanjaro and took one of Victory's white ensigns from the National Museum of the Royal Navy to the summit and in 2017, after 12 years of thinking how much I would like to walk The Trafalgar Way (I was part of the plaque unveiling with the cadets in Bridport in 2005) I decided, actually, cycling it may be quicker. Never mind the fact I had only ridden 8 miles, on flat ground, and hated it… I bought a bike, hopped on and got riding from Falmouth to London. I loved it, and have a new found love of cycling, with a planned ride of La Route Napoleon to work on next.

Two years later I have given talks, filmed, read and blogged my way through naval history and am privileged to be working with The Trafalgar Way, having cycled the famous route in 2017. I also decided to begin studying for a MA in History, focusing on the Royal Navy in the long eighteenth century. Nelson and Trafalgar made such a huge impact on me at a young age and who knows what naval history excitement the future will bring…

Editor's Note