The weekend of 18th and 19th May 2019 had been keenly anticipated. We'd followed the progress of the Cape to Cape drivers making their way back from Trafalgar in Southern Spain, through Portugal, back to Spain and then overnight to Portsmouth. The final leg of their massive, fundraising journey was to take place along the reverse route of The Trafalgar Way, taking in checkpoints in Blandford Forum, Honiton and Okehampton before a grand ceremony in Falmouth.
You can still donate to this amazing cause, visit the Cape to Cape fundraising site for Macmillan Cancer Support.
Our team was responsible for liaising with the town councils in Blandford, Honiton and Okehampton. We had tremendous support from the town clerks in all three places, and huge thanks to them and the respective Mayors, Deputy Mayors and town councillors who came along on the day. The scouts, guides and Rotary Clubs were also involved and Macmillan coordinators and volunteers completed the picture.
The Trafalgar Way team managing the checkpoints on the day included Adam Preston in costume as Lt Lapenotiere, and Kate Jamieson. Kate also gave a talk about The Trafalgar Way at the Corn Exchange in Blandford Forum on the eve of the event, which was very well received.
Adam's Report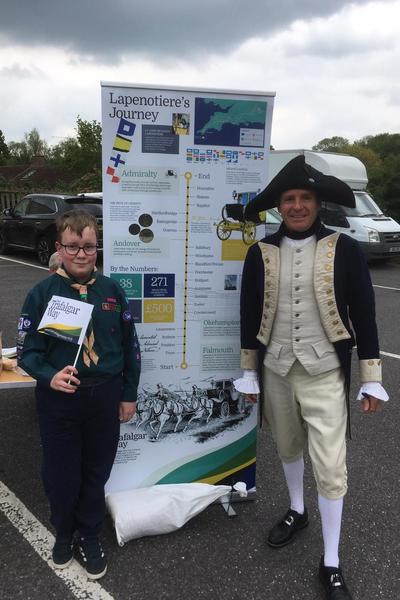 "The story of Lapenotiere's dash from Cape Trafalgar to Whitehall via Falmouth is one that I have been having great fun exploring from all sorts of angles but on the 18th of May I got to actually BE Lieutenant Lapenotiere! Dressed up in authentic uniform of the period my job was to welcome vintage car drivers who were helping to put the Trafalgar Way on the map by driving from Cape Trafalgar to Cape Cornwall while also raising funds for Macmillan Cancer Support. At around noon on the 18th in Honiton the cars started arriving and with my trusty Scout assistant Mathew we marked their arrival time, took note of their car numbers, told them when they could go and made sure they received a specially minted medal on their departure.
Then, like the real Lieutenant Lapenotiere delivering his famous message, I wasted no time in rushing to my next coaching inn - or in reality a beautiful park in Okehampton where I made another appearance — and surprised many of the drivers, many of whom remarked "You get around, don't you!".
On the 19th I was back in uniform and appearing in Falmouth, one of my favourite towns in England and one where I have family. In fact my first cousin Dr Robin Kirby, a big pin at Falmouth University, got the surprise of his life when he bumped into me in the guise of a 19th Century British naval officer while taking his family to the National Maritime Museum. At Falmouth I had the pleasure of making a short speech to the assembled crowd. I presented the Mayor with a copy of The New Trafalgar Dispatch and received a very fine bottle of sherry from the organisers of the rally - which I was ordered to deliver to the 1805 Club post haste!"
Kate's Tale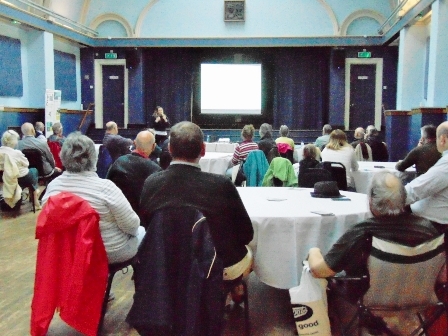 "I was very much looking forward to being part of the Victory Grand Tour Cape to Cape and helping out. On the Friday night before the cars passed through Blandford I gave a talk about the history of The Trafalgar Way, the Battle of Trafalgar and my bike ride along the route in 2017, and it was great to see over 50 people turn out to raise money for Macmillan!
On the Saturday I headed for Okehampton where I met with two Macmillan volunteers and a dog named Daisy, who was the star of the show! The Mayor came down to meet all the cars as they passed through and we checked they all stayed for their designated 10 minutes before moving on. One person who turned out to meet the cars was waiting for his parents to come through, as they were part of the rally, and they had no idea he would be there which made for an emotional reunion! The arrival of Lt Lapenotiere went down well later in the afternoon as well. Over the course of the day we must have had over 100 people come down to see the cars, and around 40 adults and kids stayed for the whole event. A great day"
(Image courtesy of Nicci Brown, Blandford Forum)
In Falmouth, Adam as Lt Lapenotiere was involved in a presentation to the Mayor, Grenville Chappel, in one of his final duties of his term as Mayor of Falmouth.
Here he is, presenting a copy of the New Trafalgar Dispatch to Mayor Grenville Chappel.
We also owe a huge debt of thanks to
Gonzalez Byass
bodega in Jerez, Spain, for joining in with the fun of the event. They donated two bottles of really fine sherry, firstly a Cuatro Palmas, a special bottle of a very old Amontillado (over 45 years old), to present to the Mayor of Falmouth, and also a wonderful bottle of NOE, 30-year old PX sherry, to present to The 1805 Club. This was ceremoniously given by the Cape to Cape event organiser, Dennis Greenslade, to Lt Lapenotiere, with instructions to take it 'with all haste' to London!
Here is a video of that moment:
With thanks to all involved for a memorable and worthwhile event. We are happy to have supported the event and have helped raise funds for such a great cause!