On 17th November 2018 villagers in Perranwell Station in Cornwall welcomed a visit from a perfect replica 19th-century post-chaise carriage. The bright yellow period carriage, pulled by two horses with a postillion rider, carried Midshipman Ben Cunningham from RN College Dartmouth and actor Tom Blyth, playing the part of Lt John Richards Lapenotiere, Captain of HMS Pickle, one of the 27 ships present at Trafalgar in 1805.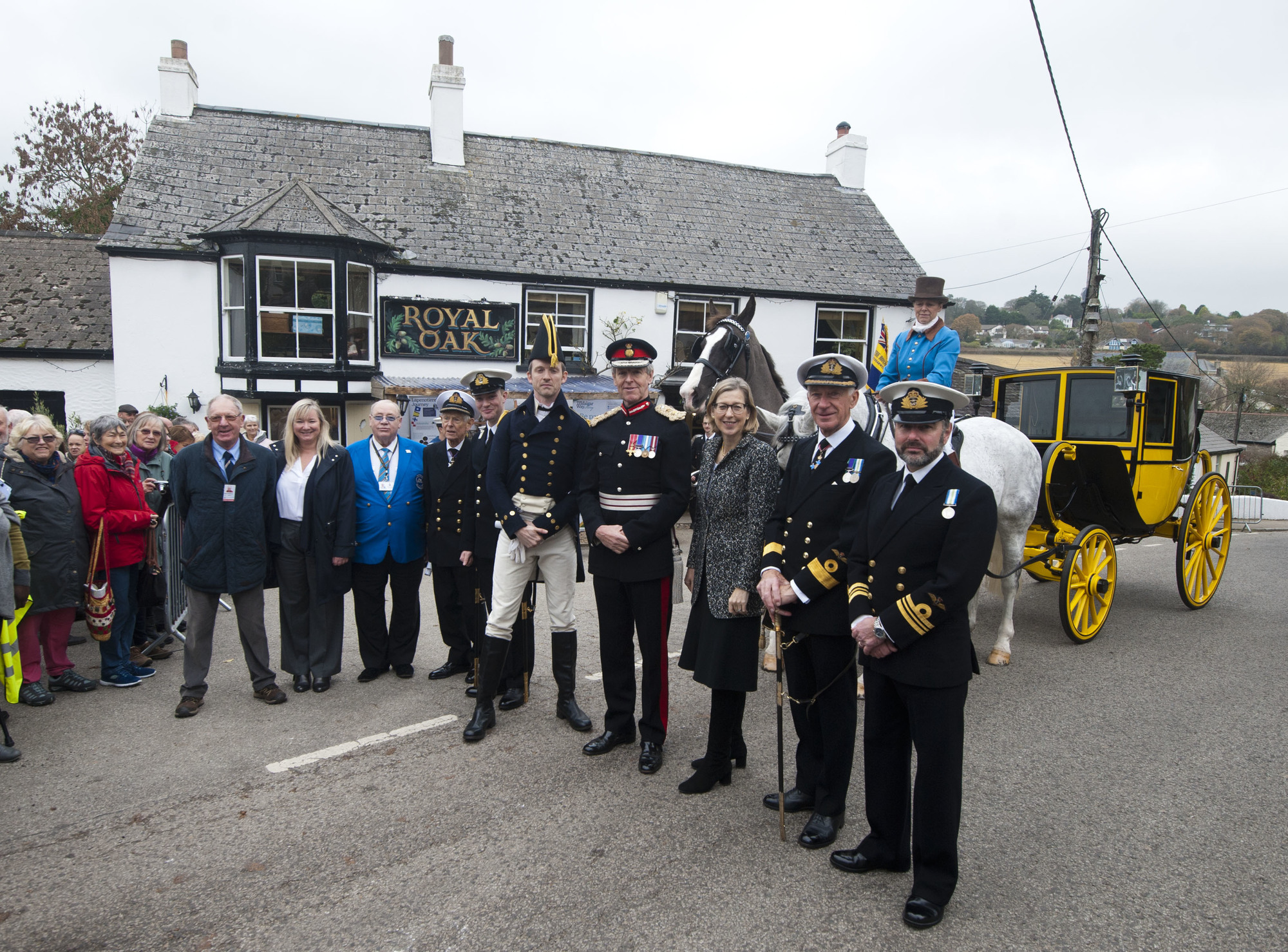 The Lord Lieutenant of Cornwall, Colonel Edward Bolitho, with (L-R) Stuart Douglas, Kathy Brown, Peter Williams (Cornwall CC), Commander Michael Higham, Midshipman Ben Cunningham, Tom Blyth as Lt Lapenotiere, Sarah Newton MP, Commodore Peter Fish (Falmouth and Penryn Sea Cadets), Lt Cdr Trevor Brookes (Resident Naval Officer, Falmouth). Photo (c) Mike Thomas
On his way from Falmouth to Truro, where he changed horses for the first time, Lapenotiere would have travelled through Perranarworthal parish and passed directly by the Royal Oak in Perranwell Station, which was the site of today's ceremony. His instructions had been to use every exertion to take his urgent message to Whitehall, so he would have hired an 'express' post-chaise, probably with four horses where that option was available, at each posting stop along the way.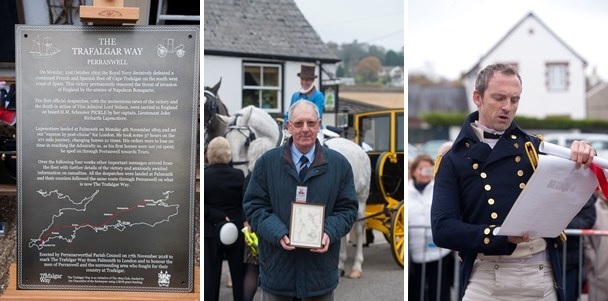 A new plaque marking Lapenotiere's historic journey was unveiled by Cornwall's Lord Lieutenant, Colonel Edward Bolitho, witnessed by local constituency MP Sarah Newton, local councillors and village residents and schoolchildren. A guard was provided by Falmouth and Penryn Sea Cadet Unit, and a bugler was on hand with a fanfare.
We were alerted to Perranwell's role in the historic journey of Lt Lapenotiere by local resident Stuart Douglas, who had spotted an old road strip map hanging in the pub showing distances from Hyde Park Corner. A tiny village today, Perranwell was clearly depicted as the main route out of Falmouth in those days and a regional coaching junction in its own right. It was our very great pleasure to work with Perranwell to procure the plaque and put together today's 19th century re-enactment ceremony. The plaque will be affixed to the front of the Royal Oak public house to provide information to visitors and travellers keen to explore away from the main A39 trunk road.

In the course of researching the role of Perranarworthal parish in the history of 1805, we also discovered at least two residents from Perranwell or surrounding villages who had taken part at Trafalgar. You can research names and places associated with crew members from the Royal Navy in Georgian times using
The 1805 Club Research databases.