HM Schooner Pickle
Today's recreation of the original
Did you know there is a new Schooner
Pickle
? She is berthed at Hull Marina under the proud ownership of restorer Mal Nicholson. While a pretty accurate lookalike of the original turn-of-the-19th-century Pickle (
originally called Sting
), this version is blessed with a motor as well as authentic sails.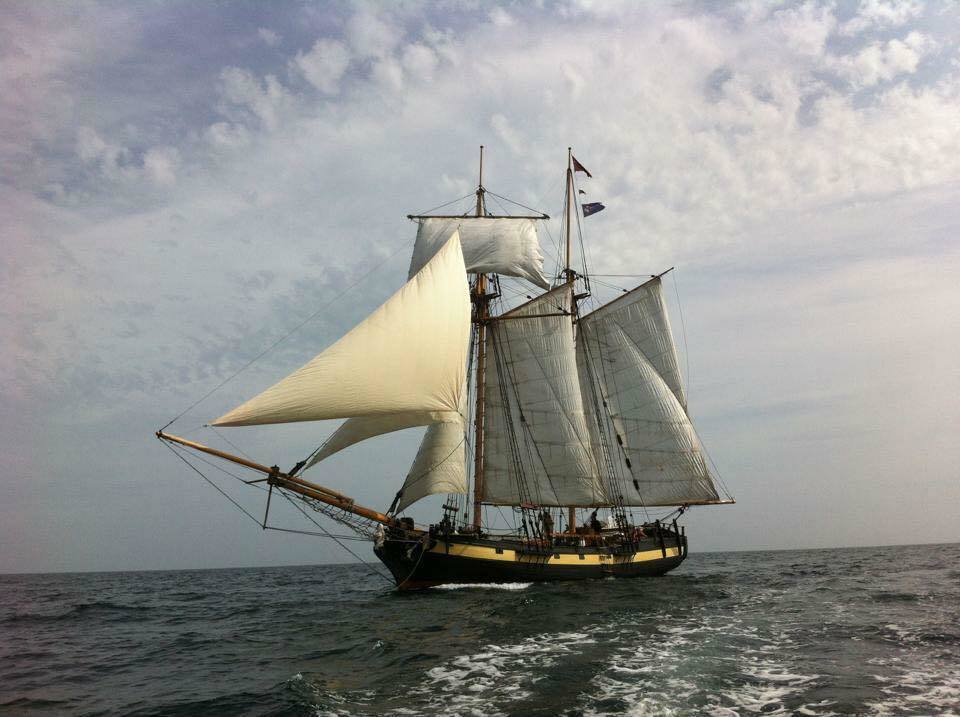 HM Schooner Pickle, off Blyth, Northumberland.

Mal Nicholson's faithfully restored Pickle has almost the same dimensions as the original schooner. Image courtesy of Historic Motor and Sail.
Excerpt from 'Historic Motor and Sail', Schooner
Pickle's
home website.
1996 saw the present recreation of the original Schooner Pickle being built in St Petersburg by a Russian multi-millionaire to help commemorate the 300th anniversary of the founding of the Russian navy by Peter the Great. She was launched as the schooner Alevtina Tuy along with her sister ship the Elena Maria Barbara. They were eventually bought by Robin James and the Alevtina Tuy was converted into a faithful replica of HM Schooner Pickle for the Trafalgar Bicentennial celebrations. She was kept in Wales originally and was used as a Tall Ship, eventually ending up in Gibraltar where unfortunately she suffered from exposure to the sun and heat.
She is now owned by Mal Nicholson and has under gone extensive repairs to bring her back to life. Pickle now lives on the Humber at Hull Marina and regularly visits ports along the North East coast and further afield.
Pickle has appeared on screen and is used for a wide variety of sail training and other duties at sea. She is enjoying a new-found relationship with the Royal Navy. We hope to see her along the south coast again periodically!
Can I go on board?
When she is at home in Hull, Pickle welcomes visits from enthusiasts, but you must contact the owner in advance to arrange a visit. Also, please consider joining HM Schooner Pickle's club, The Captain's Table. It's just £5 a year and gives you:
Exclusive Member Open Days
Dispatches, Pickle's regular members-only newsletter
Access to Film Nights onboard
The opportunity to join in with events, train with Pickle's professional crew or generally help out with the fleet.