Plaque Spotting Adventures

In the wheel tracks of Lapenotiere
Could John Richards Lapenotiere have imagined, when he hastened to deliver the official dispatches from Vice Admiral Collingwood to his superiors at The Admiralty, that others would follow in his tracks over 200 years later? Or that the way would be marked with story-telling plaques to recount his adventure?
Today you can hunt down and visit each of the thirty-nine plaques and imagine what that journey would have been like along roads with no iron surface. Whereas today, the trunk routes carve graceful curves along the contours of south-west England, the old coaching roads typically took higher carriageways along ridges and drift ways. It's a lot of fun to travel these lanes and byways and picture Georgian England as you go.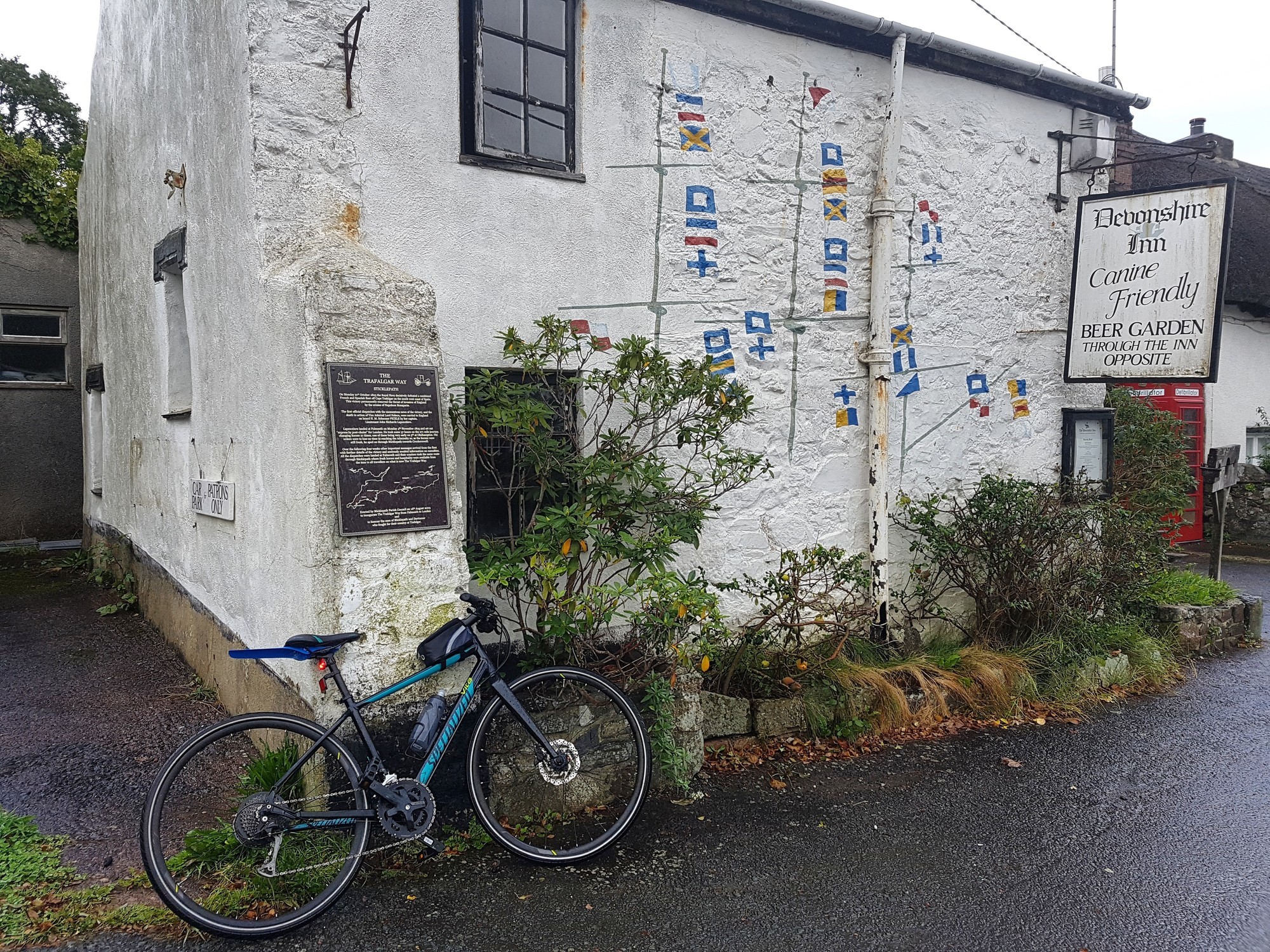 The plaque at Sticklepath, Devon

Photo © Kate Jamieson. Nelson's flag signal is emblazoned on the wall opposite The Devonshire Inn public house in Sticklepath, Devon.
Why not follow in the trailblazing footsteps of the elite band* who have attempted to visit ALL of the 39 Trafalgar Way plaques from Falmouth to Whitehall, London?
You could do 'the full Lapenotiere' (all 39 plaques in one trip), or break it into sections to tick off on different occasions. You could even try it in reverse, or timed to match Lapenotiere's 37 to 38 hour accomplishment.
Whichever approach you choose, we'd love to hear from you if you are planning to attempt this trip by car, bicycle or motorcycle (or some other means!). It's a great basis for a fundraising challenge. We're retelling our Wayfarers' stories in a series of 'Adventures' articles which you can find in our blog.
Find a list of all the plaque locations here or revisit our
interactive map
to see where they are all located.
Join our 'Trafalgar Wayfarers' Roll!
Have you already visited all or most of the plaques along The Trafalgar Way? Let us know and we'll add you to the Roll of Honour to recognise your perseverance and intrepidness.
*Note: at time of writing we are not aware of anyone (other than us!) who has yet managed to visit every single plaque including the 39th at Perranwell. Do you have news for us? Let us know, and we'll add you to our 'Trafalgar Wayfarers' Roll!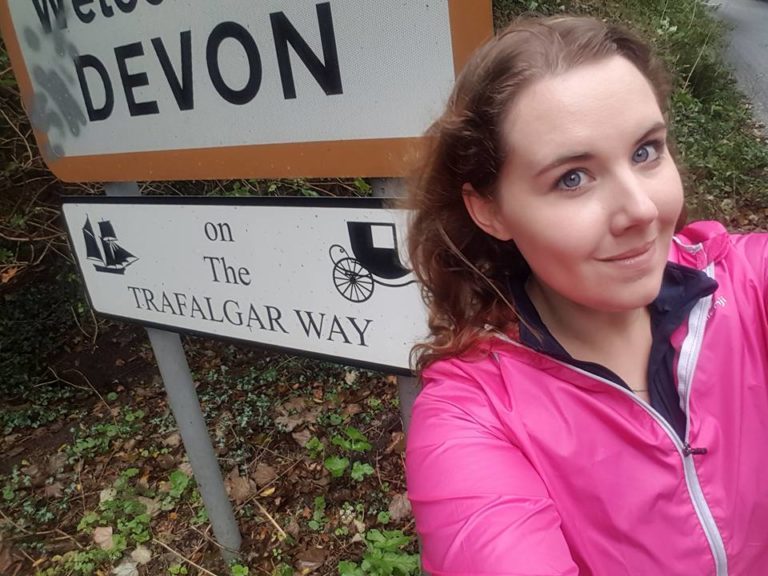 Kate Jamieson, 2017

Kate Jamieson travelled The Trafalgar Way by bicycle in October 2017, completing the whole journey in sections, to raise money for the Duke of Edinburgh Award scheme. You can read all about it on her blog
Adventures of Kate
.
The Trafalgar Wayfarers
A roll of honour featuring some adventurers who've visited rather a lot of plaques!
Kate Jamieson (bicycle), 2017
Kathy Brown (car), 2018
Emma Hughes (car), 2018/9
Mark Fisher, Robert Potter, David Oldham (car), 2020
Jason Wright (bicycle), 2020
Paul Stableford (motorcycle),
NB Cyclists participating in the annual Ride The Trafalgar Way sportive may also be admitted to their '
Hall of Fame
'. If you fancy having a go at this challenge, please visit
their website
for more details. And we'd love it if you could consider
raising funds for us
as you go!
Have you visited all or nearly all of The Trafalgar Way plaques?