An auspicious date, is November 6th: proper "Pickle Night", the date that Lt Lapenotiere would have been driven in his post-chaise express along Piccadilly towards the Old Admiralty in Whitehall, the final moments of his long journey bringing the dispatches from Trafalgar. And so, what better location to host our prizegiving awards on that date in 2021, than the prestigious Army & Navy Club, fondly known as 'The Rag', at 36-38 Pall Mall - a mere stone's throw from that route.
The Awards ceremony was the culmination of our 'Postcards from The Trafalgar Way' competition, which was launched in February 2020 on the cusp of the pandemic. Hundreds of entries later, judging was finally carried out in May 2021 and the prizewinners selected. You can see all the award-winning pieces in this gallery. Judges were particularly drawn to submissions which demonstrated how the artists and photographers had researched - and in some cases visited - the story and route itself. A full list of winners was announced in a previous article.
We were extremely privileged to welcome the renowned maritime and plein-air artist Geoff Hunt PPRSMA to present the awards. Geoff addressed the winners, most of whom were young people under the age of 14, even in the open categories, and urged them to continue to develop their talents in bringing history to life for other people. We really hope they will all follow his advice!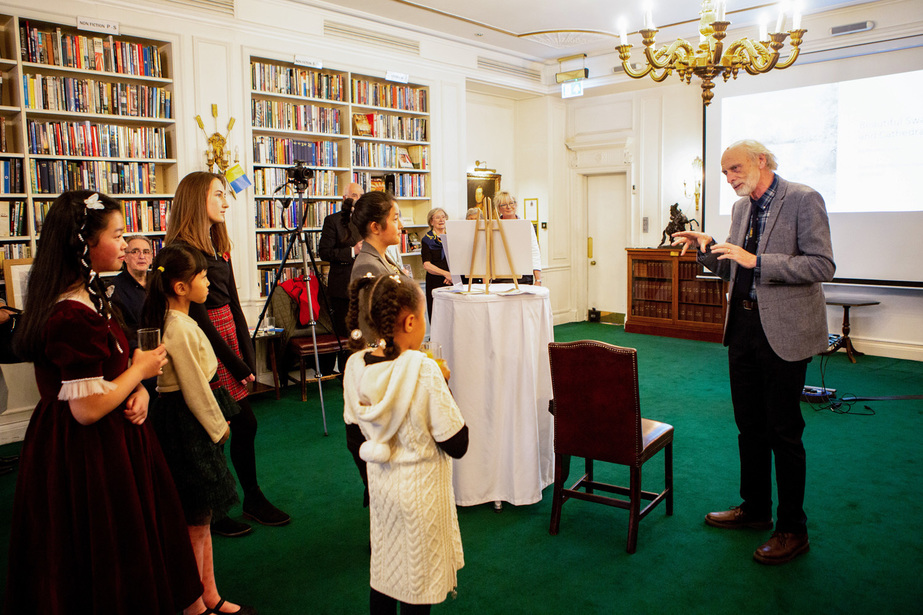 Geoff Hunt PPRSMA encourages the 6 award winners - credit Paul Clarke and Tracy Howl
Being the 6th November, we couldn't exactly celebrate without an appearance from Lt Lapenotiere himself. So at an opportune moment, a sharp knock on the door heralded 'the arrival of the dispatches' and Lapenotiere, played by actor Thomas Michaelson, bustled into the room and called for a toast to 'The Brotherhood of The Sea'.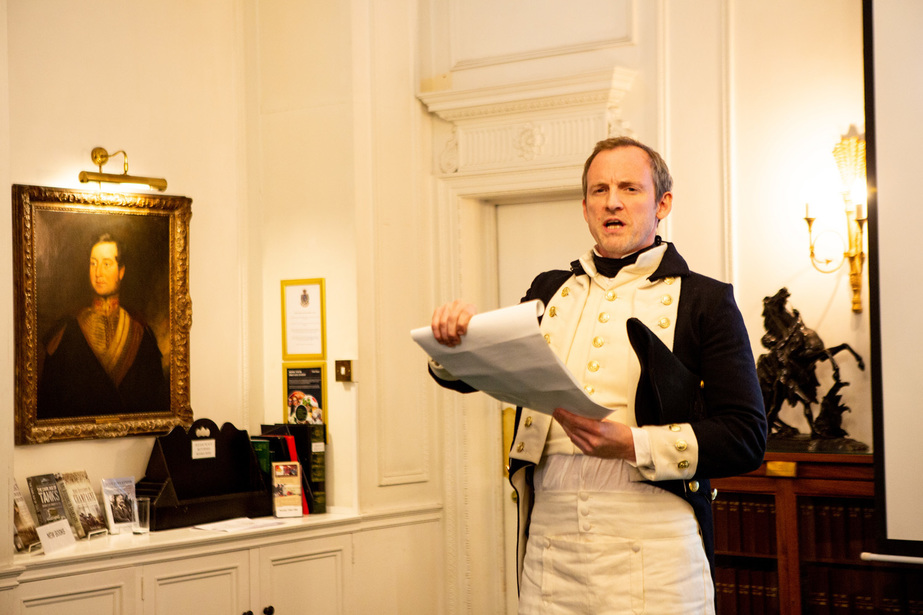 Lt Lapenotiere (Thomas Michaelson) reads from the New Trafalgar Dispatch - credit Paul Clarke and Tracy Howl
After the trophies and awards were presented, we were led in a set of sea songs and shanties by the delightful duo of Iona Allan on fiddle and Roo Mathieson, singer and performer.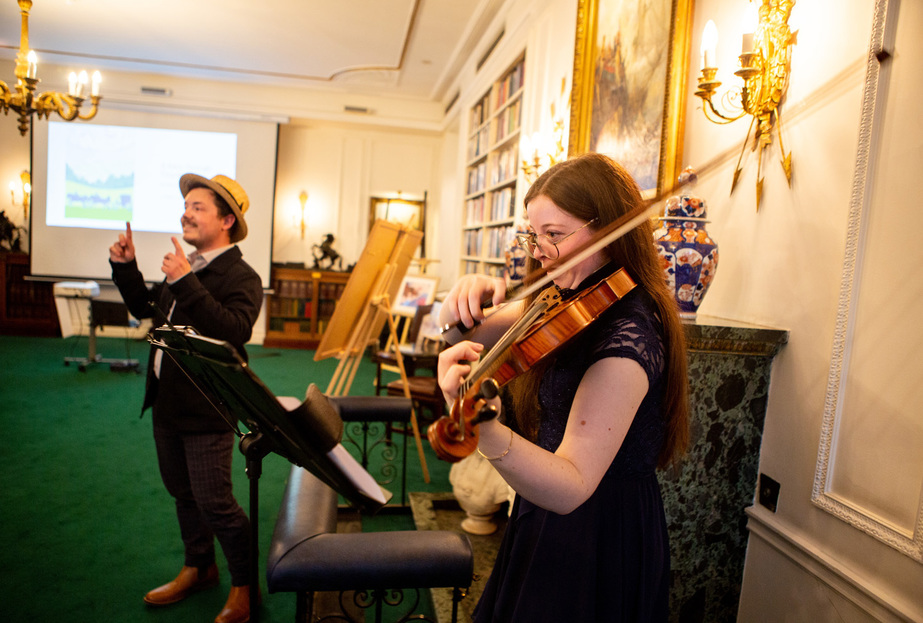 Don't forget your old Shipmate! Shanties and songs led by Roo Mathieson, accompanied by Iona Allan - credit Paul Clarke and Tracy Howl
This was a wonderful opportunity to meet all the prize winners (except one - more of which to follow!) in a fantastic setting, and to celebrate with them their creativity and interest in our story.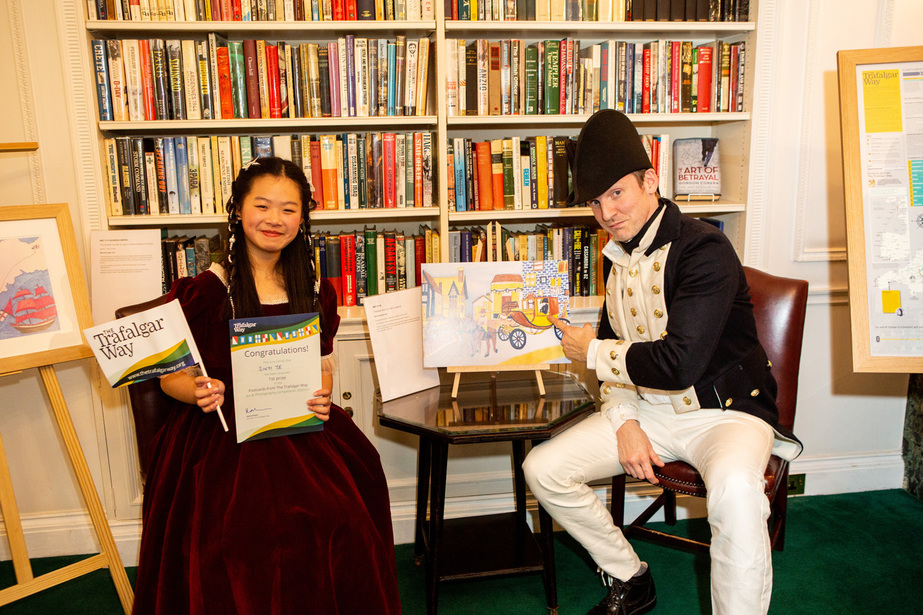 Sinyi Ye (1st prize 12 to 16), with Lt Lapenotiere indicating his likeness in her drawing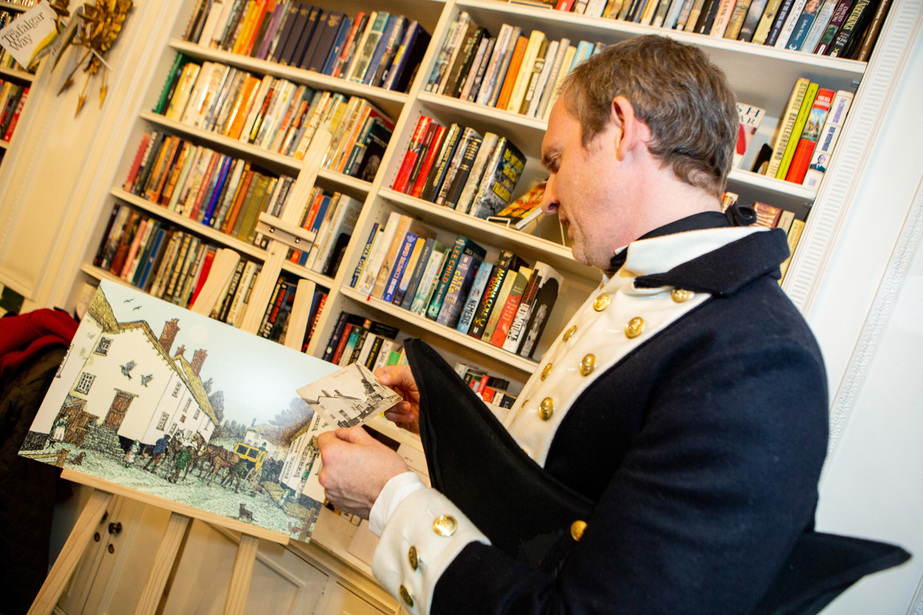 Lt Lapenotiere examines the vintage postcard which inspired Philip Keen (1st prize, Art 17+) to recreate a post-chaise scene set in Crockernwell, Devon -credit Paul Clarke and Tracy Howl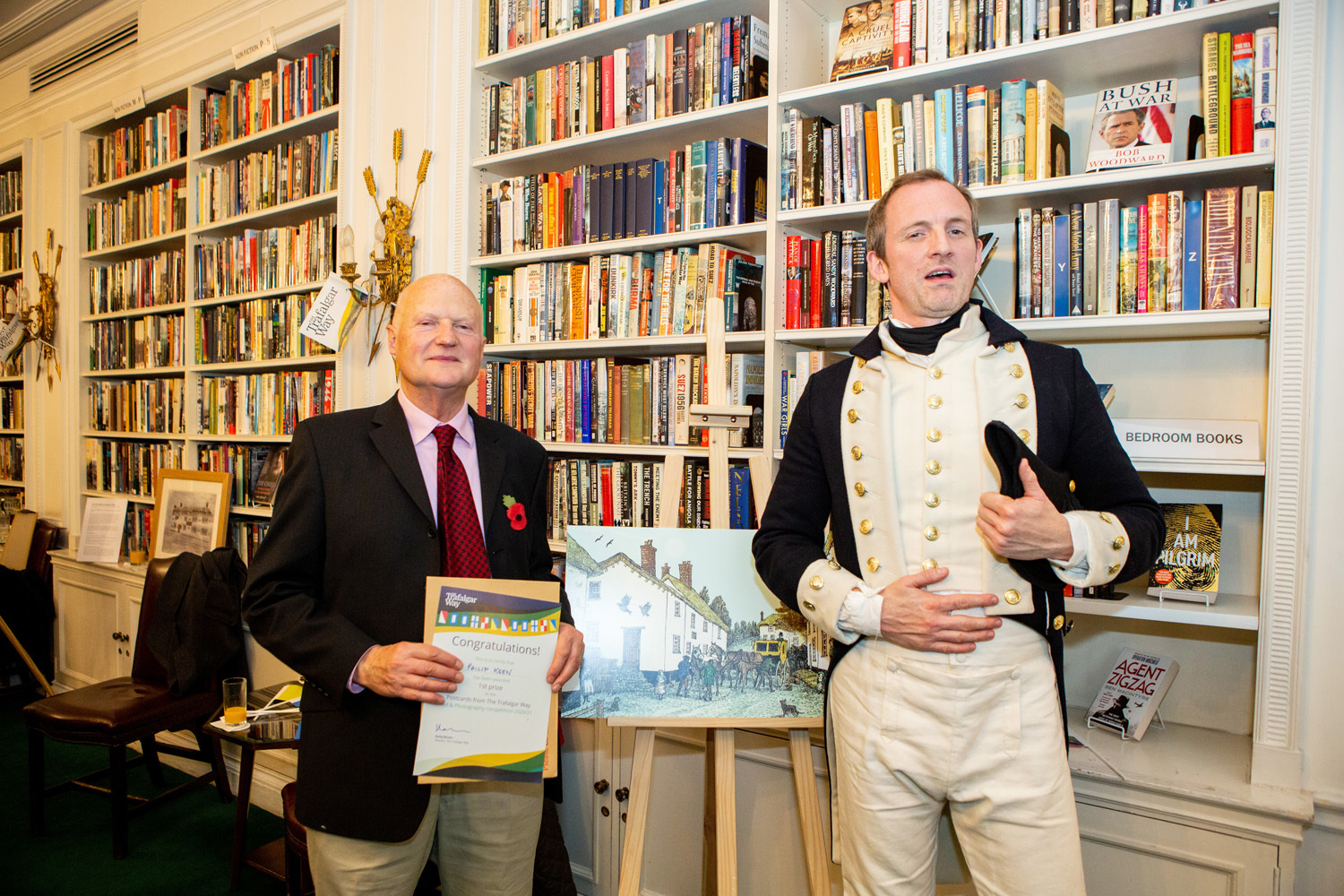 Philip Keen, 1st prize winner (Art 17+) with his wonderful ink-and-digital piece, "Changing Horses at the Golden Lion, Crockernwell." The drawing is based on a vintage postcard which depicts his own grandmother as a child sitting on the steps of Golden Lion House - credit Tracy Howl.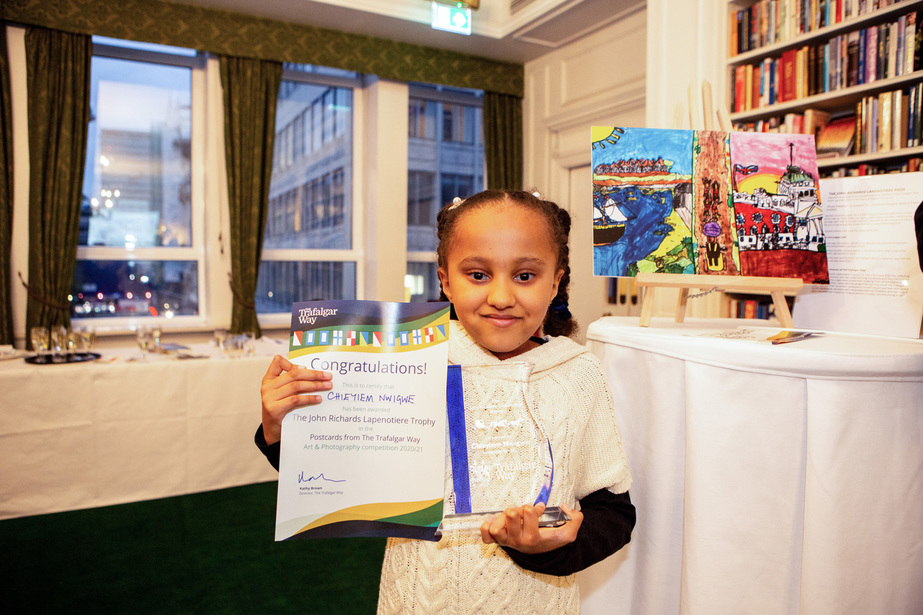 Trophy winner Chieyiem (aged 8) with her bold and detailed award-winning design - credit Tracy Howl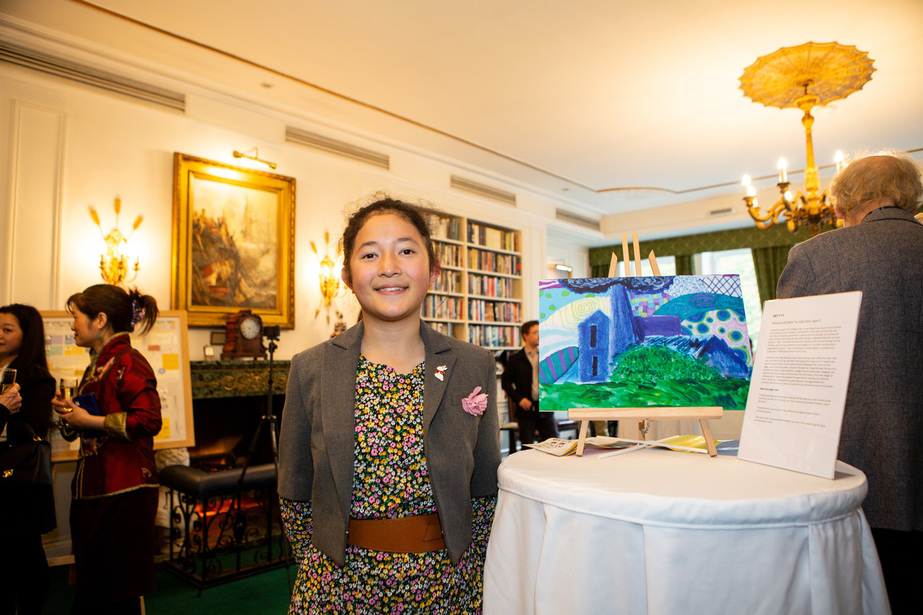 Ailla (aged 12) with her colourful 1st prize-winning depiction of Belowda Hill Mine in Cornwall - credit Tracy Howl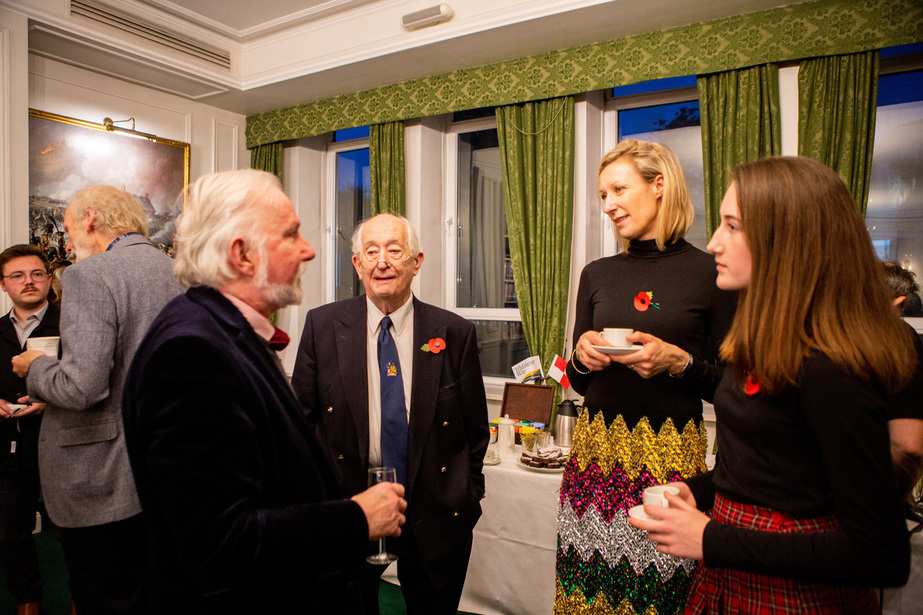 Trophy winner Chloe (aged 13 - right) talks with 1805 Club Secretary Stephen Howarth and former Chairman and founder of The Trafalgar Way Bill White - credit Tracy Howl.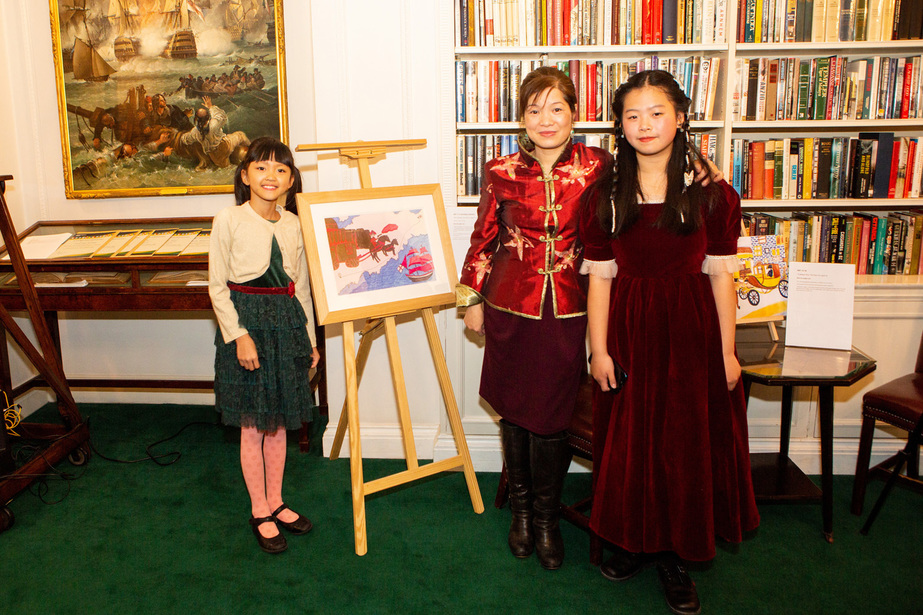 Art teacher Yellon Huang from Croydon with her two prize-winning pupils, Judy aged 7 and Sinyi aged 12, and Judy's clever artwork, "The Triumph". Credit Tracy Howl and Paul Clarke
It is hoped that some of the artworks from the competition will find their way as originals, prints and other items onto our website for sale in a future fundraising "Arty Auction". Watch this space and please sign up to hear about this and other news, if you are not already subscribed to our mailing list.
Video of the event is credit Paul Clarke (paulclarke.com).