We're Halfway Home in our national Art & Photography competition to promote awareness of The Trafalgar Way!
Although we had made the decision to postpone the competition deadline to next year, we also wanted to recognise those who had already submitted entries prior to Sept 1st 2020. So we set our three Lapenotiere re-enactors, Tom, Adam and Rob, the task of each picking out a personal 'interim' favourite. Of course, choosing just one is always a difficult task - believe me when I tell you there are some stunning entries still to go forward to the main judging next year, including some of my own top picks which I'm crossing fingers might be recognised in the finals. With this in mind, the three Lieutenants also selected two shared favourite entries which they thought really reflected the brief of the competition. Read on to see which 5 entries were their highlights so far.
Each of the winners named below will receive a copy of our colourful publication "The Official Storymap of The Trafalgar Way: how news of Nelson's great victory and tragic death reached London."
Please note that all images displayed here are © their creators and may not be downloaded or repurposed under any circumstances.
Lt "Tom" Lapenotiere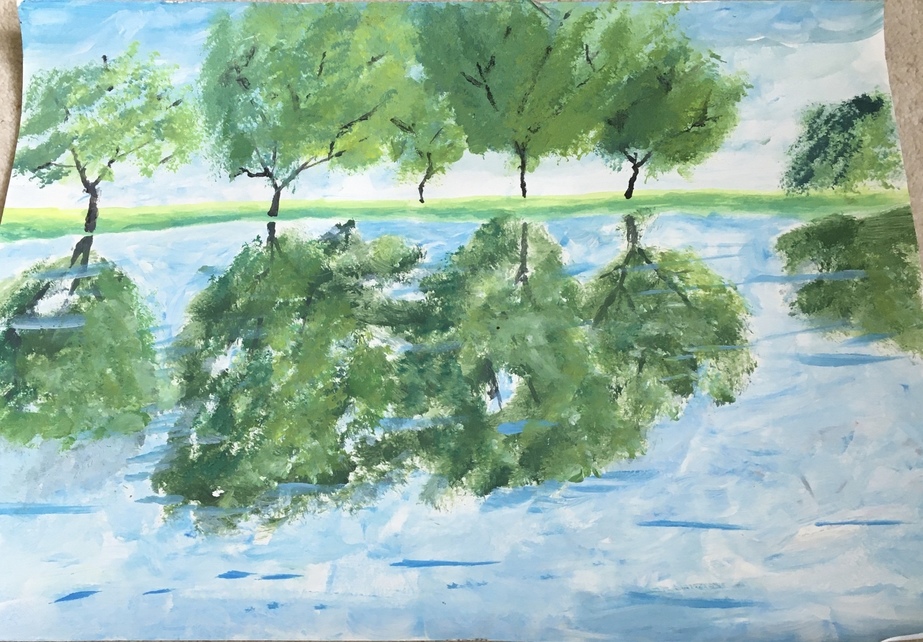 Lake reflecting trees in Hartley Wintney by Oscar Davies, from Surrey © Oscar Davies
Tom chose "Lake reflecting trees in Hartley Wintney" by Oscar, aged 12 from Surrey. Hartley Wintney is in Hampshire, and Lapenotiere's carriage ride would have brought him right by this spot before his 18th change of horses at Hartfordbridge. Tom said of this piece: "I really like the impressionistic style used here. It gives a great sense of movement, like it's the view from a speeding carriage! The energy of the painting combined with the age of the artist made it a winner for me."
Lt "Adam" Lapenotiere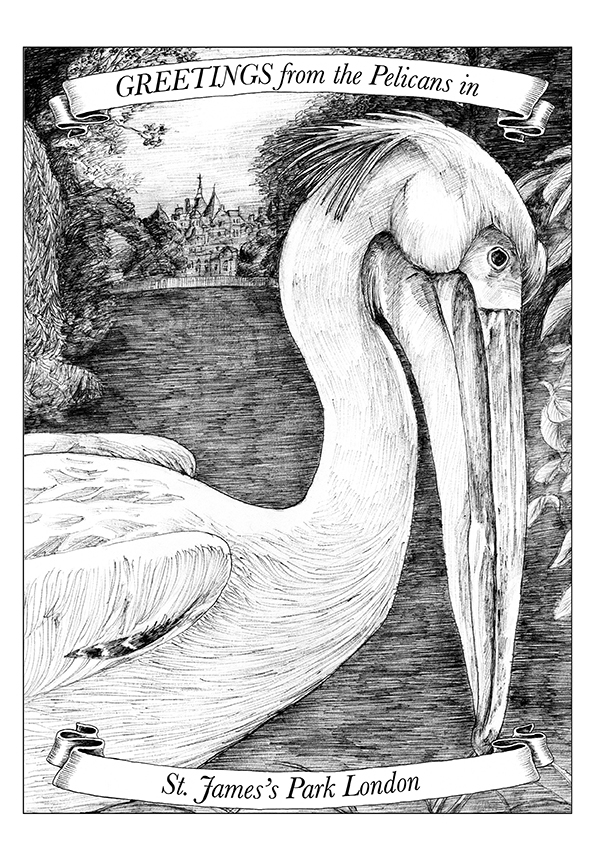 Pelican Greeting by Anna Walsh, London, © Anna Walsh
Adam chose "Pelican Greeting" by Anna from London. In Adam's words, "This is a wonderfully eccentric choice of subject for the competition, beautifully executed and its rather nice that the pelicans have been in St James's Park for so long!"
We ask all the entrants to tell us a little about the photograph or artwork they have submitted, Anna explains her inspiration as follows, "I looked along the route to see what places inspire me, or I know well. St James's Park is one of my favourite places to visit in London to see the wildlife, especially the pelicans! There must have been pelicans there in 1805, possibly watching on, as apparently there have been pelicans there since 1664."
Lt "Rob" Lapenotiere

Looking out towards Pendennis Point by Laura Wakeham, Cornwall © Laura Wakeham
Rob's choice of a standout image was "Looking out towards Pendennis Point," by Laura from Cornwall. Rob's comment on this image was, "Gorgeous use of light reflecting across the sea. A beautifully captured morning, and in a few hours I imagine Lapenotiere's ship silhouetted against the horizon as he dashes into port."
Laura told us in her notes, "I wanted to paint Pendennis Castle as it is so close to the start of the Trafalgar Way, yet paint it from a slightly different angle. This vantage point was the obvious choice considering the love I have for this area. Away from the bustle of Falmouth, here I can lose myself for hours and I often barely see anyone at all."
Other favourites
In addition to these three individual nominees, the judges decided to award two additional entries as shared favourites. "Cookworthy Knapp" by Warren from Cornwall was described by Adam as, "A really stunning photograph - quite breathtaking," which really summed up how we all felt about it. It's worth explaining how the subject is particularly symbolic: in Warren's own words, "The iconic landmark 'Cookworthy Knapp' sits on the border between Cornwall and Devon for everyone driving past on the A30 near Lifton to see and admire. The trees are known by many names but for the Cornish they are "The Nearly Home Trees" and for the tourists "The Nearly There Trees".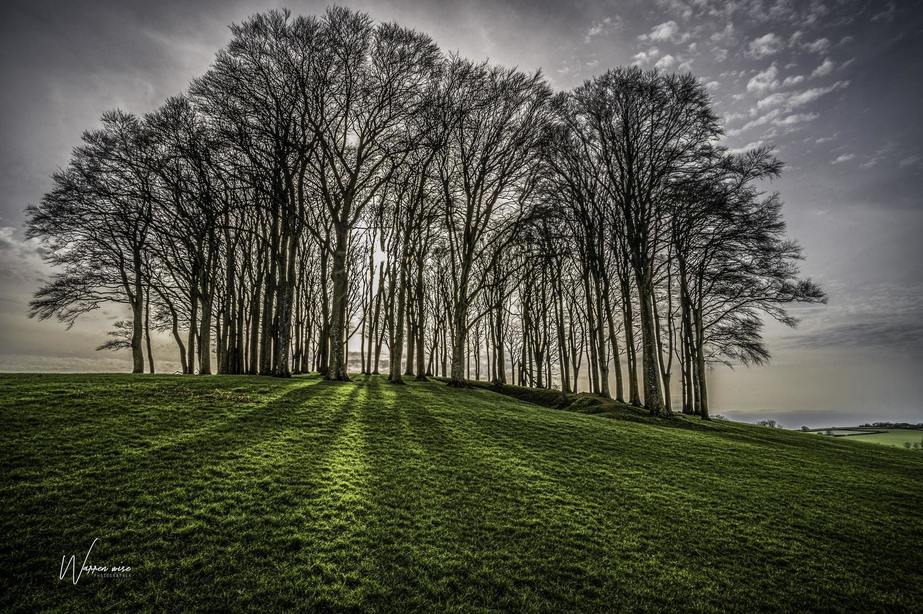 Cookworthy Knapp by Warren Wise, Cornwall © Warren Wise
Everyone loved "Enjoying The Trafalgar Way," by cartoonist Jason. Rob summed up our impression of the entry with his comment, "A lovely joyful image, showing that the Trafalgar Way is there to be enjoyed - a chance to get outside and explore something new."
Enjoying the Trafalgar Way by Jason Keeble © Jason Keeble
Jason's description reads, "My illustration depicts a young girl and dog enjoying a bike ride by Launceston Castle. It was created on A4, using dip pen and ink with a watercolour wash. All of my work is created freely to retain the wonderful line a dip pen gives. Humour is also important, laughter is one of the great secrets to a long and enjoyable life." Thank you Jason, we agree!!
Two important things of note:
1) All entries were judged completely anonymously by our three judges, across all age groups and categories. They were able to see the entrant's notes, county of residence and age category but no other personal details.
2) These choices were made subjectively by the three judges. ALL entries received to date including these examples will be put forward to the grand judging next April/May, and will be judged category by category by our panel of expert photographers and artists.
We hope you agree these are fine examples of creativity, depicting scenes which in someway capture the vistas and story of The Trafalgar Way — an essence of locality and the sense of a journey. So far we have received a great many entries across all categories and particularly love those in which entire families have studied the route and worked collectively and creatively to send us their impressions of them. There are some truly lovely images, and there are still six months to go to the deadline!
What scene would you recreate? Entries across all seasons are welcome right up to midnight on 16th April 2021. You may enter as many times as you wish, and entries for under 17s are free. There are loads of prizes available to win - just see the entire list here. Why not get thinking, get looking, get exploring and get creating?
Good luck all you arty folk!